Timeline of events
Dec 8, 2020
Now time to point the compass West and head home to Perth. With one final stop at Kondoolka station seeing as we wil be passing on our way to the border.Maybe it saw the Hayabusa-2 capsule too!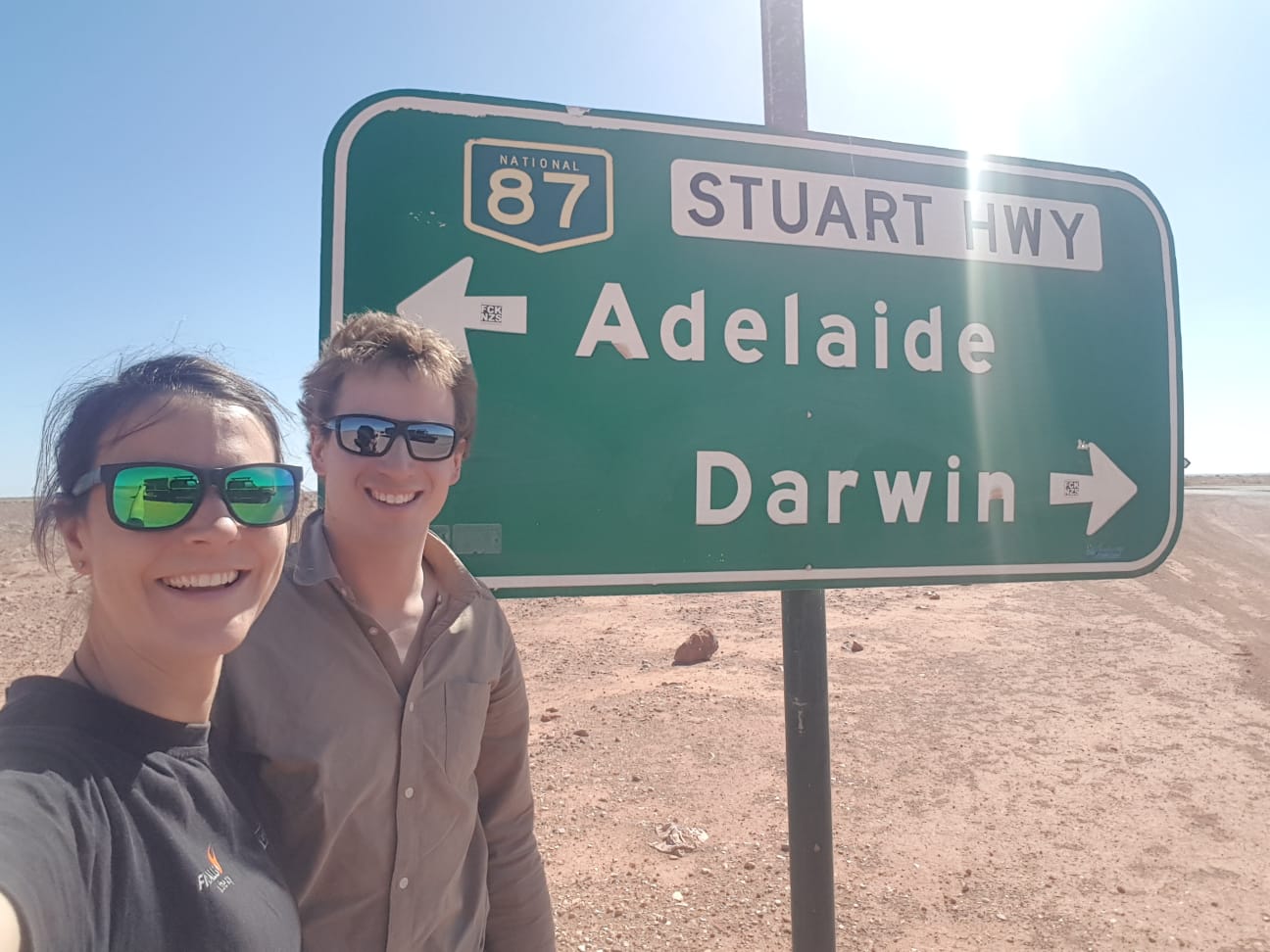 Dec 8, 2020
Mick and Geoff leave Coober Pedy early to get back to Adelaide. Meanwhile Ellie and Hadrien finish packing, and there are lots of boxes! The 5 palettes are picked up by McArdle freight (it's been a pleasure to work with these guys!), filling up the delivery truck completely! We made the wrap-up meeting in Woomera, and throughly enjoyed meeting all the amazing teams that have put so much hard work into this mission and its successful recovery.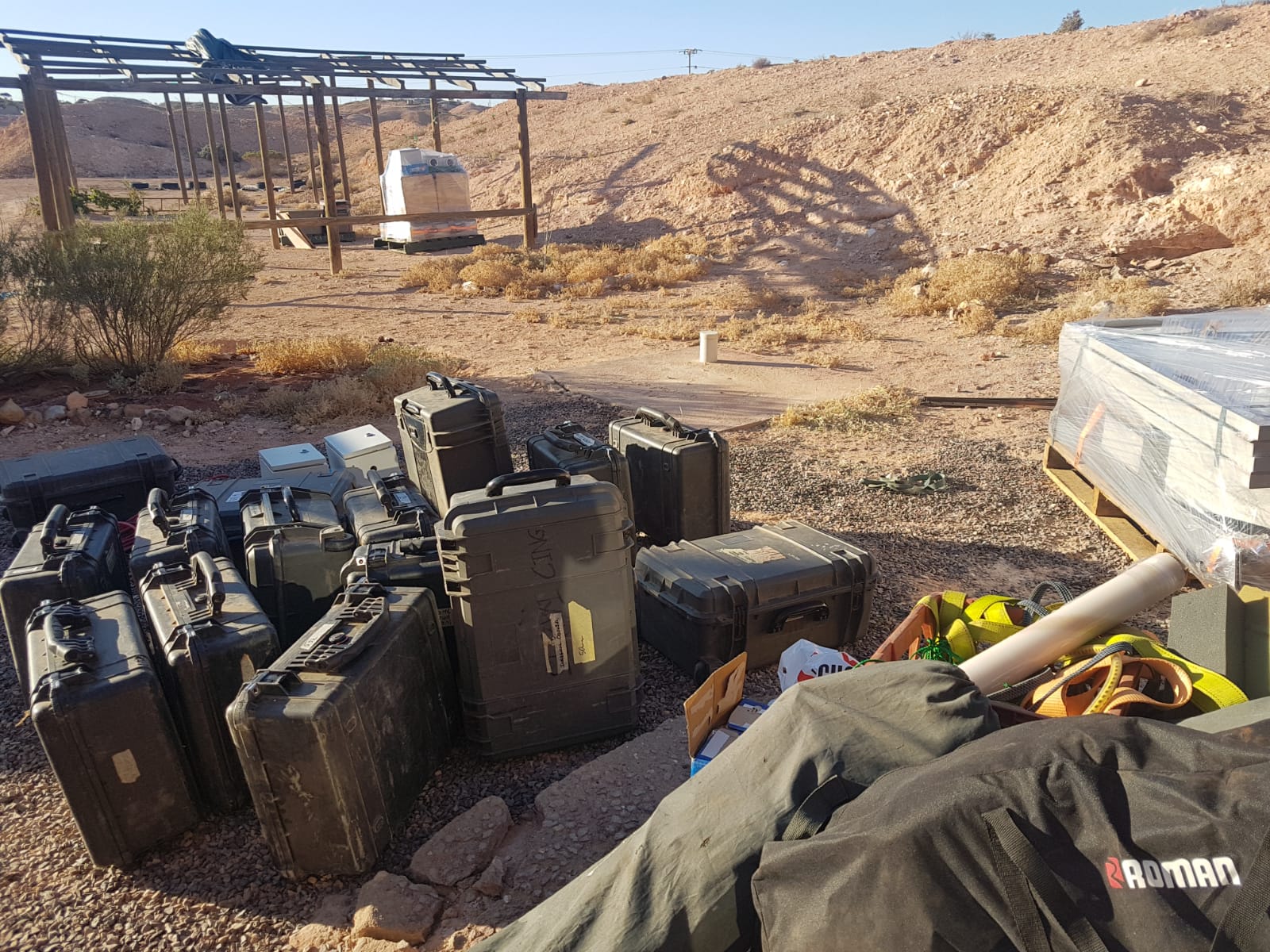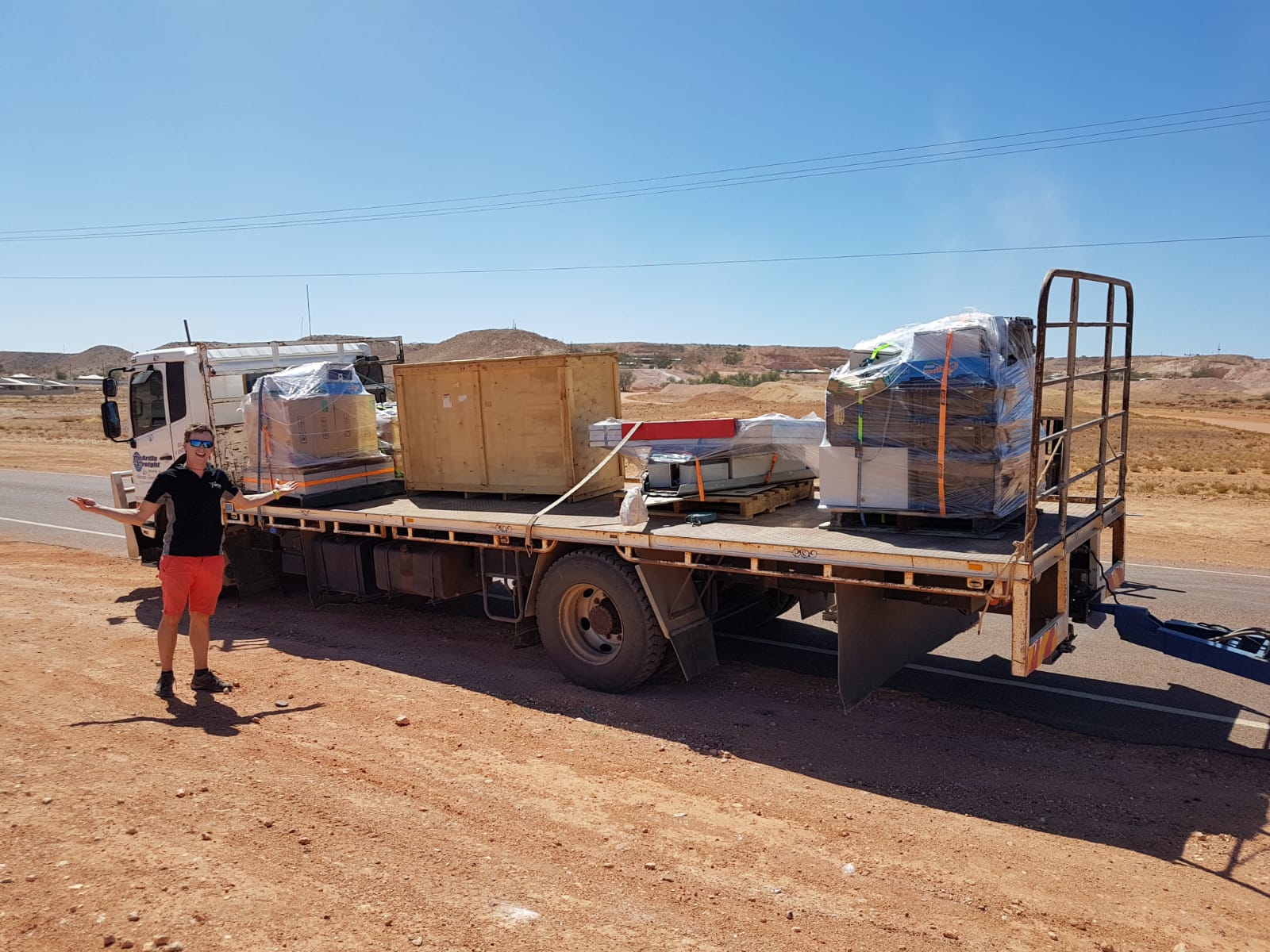 Dec 7, 2020
Andrew and Terry head back to Adelaide in the Hippo. We're down to 4 people, and now need to pack all this equipment, ready for shipping back to Perth tomorrow. Hadrien starts backing up the data, and taking stock of which instruments successfully logged data (it looks like most of them!). We can't wait to check it out, and hope we have collected good data for our Japanese colleagues to achieve their science goals. There will be lots for Hadrien and Ellie to do while quarantining on return to WA.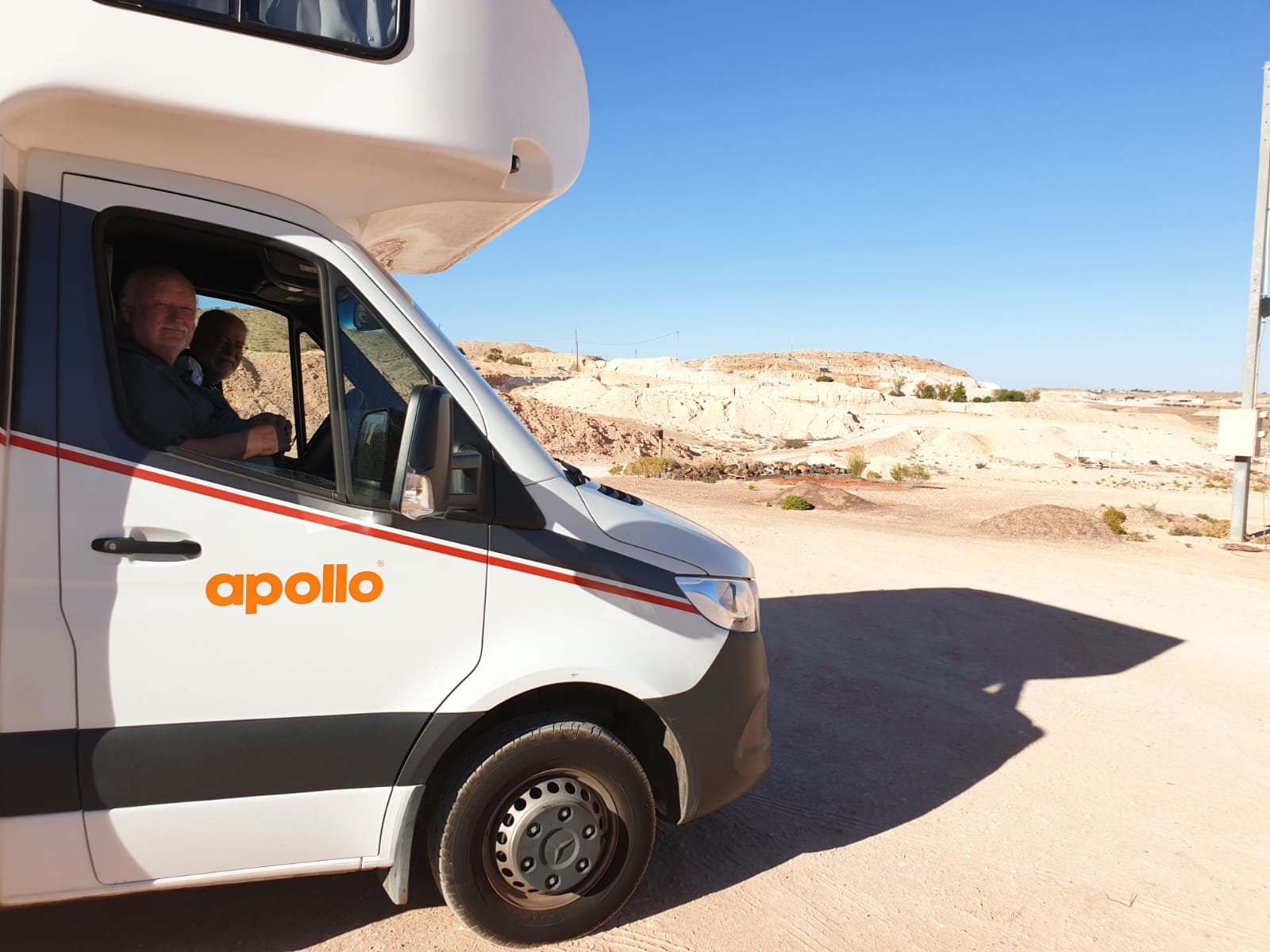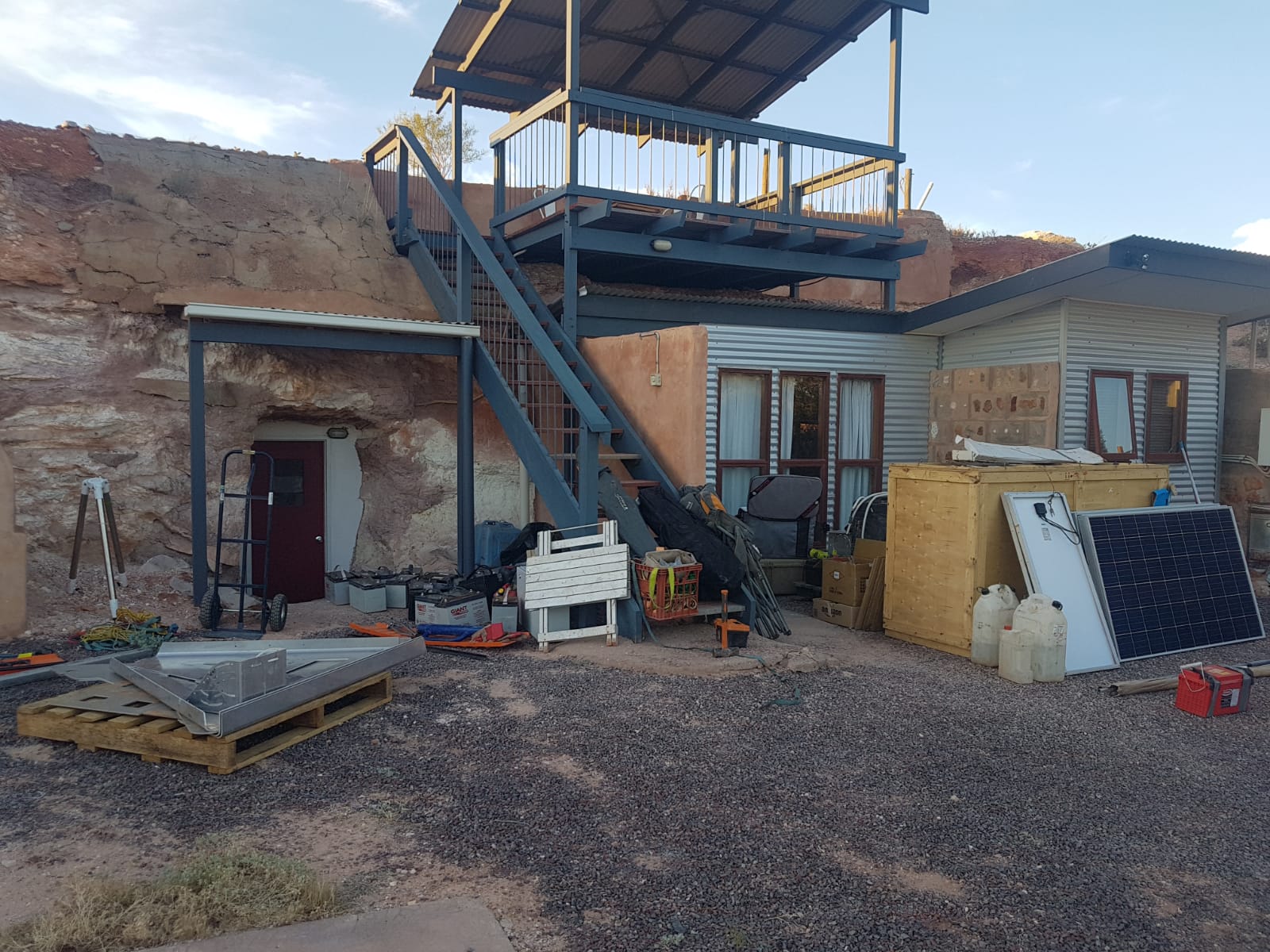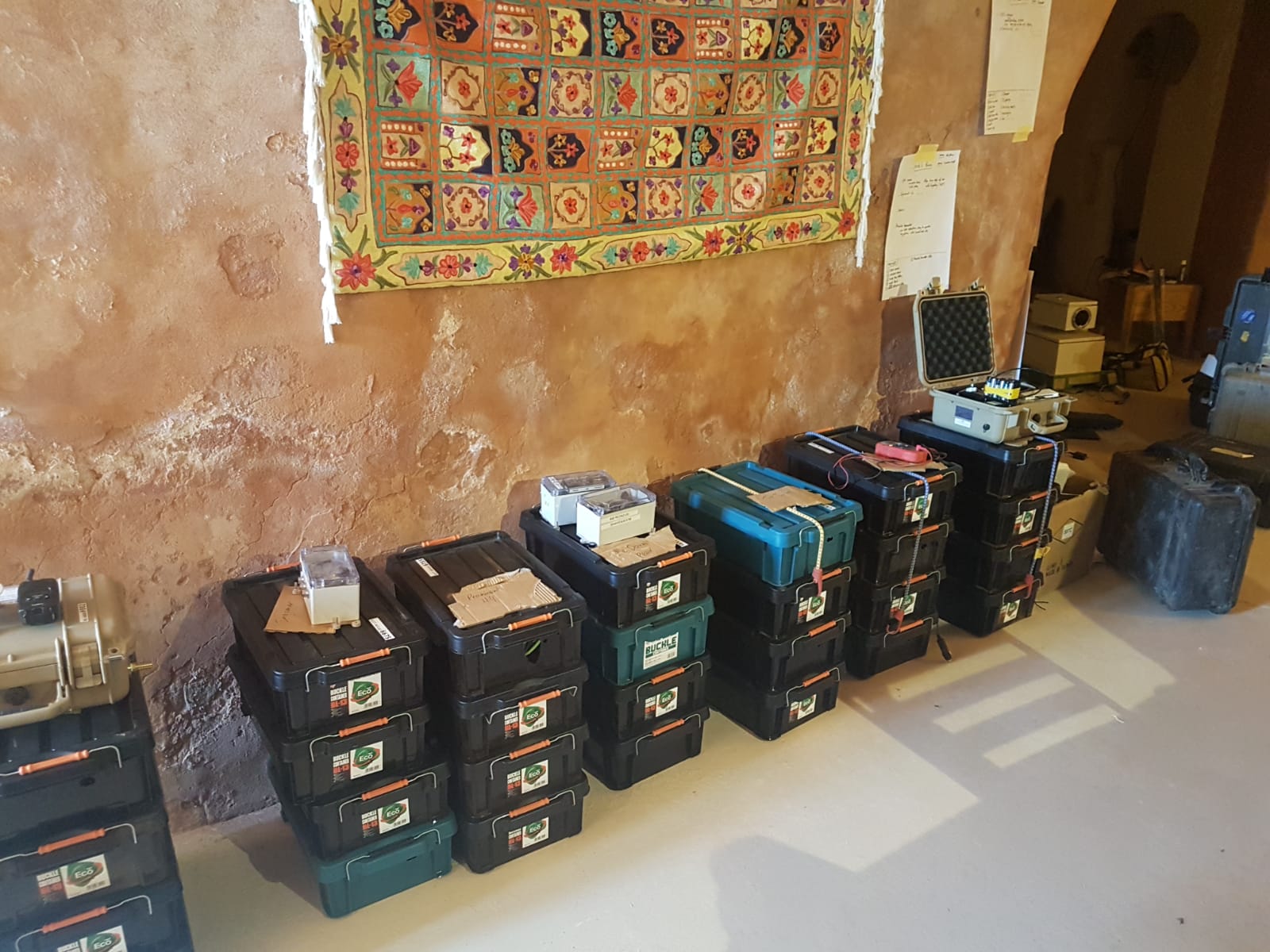 Dec 6, 2020
Now to collect the unmanned site equipment. Another long day on the road for everyone, retrieving sensors and batteries. We say goodbye to Karen and Glyn who are heading back to Adelaide. The rest of us are all back in Coober Pedy for a well deserved dinner celebration at the Outback Bar and Grill. An early night for all!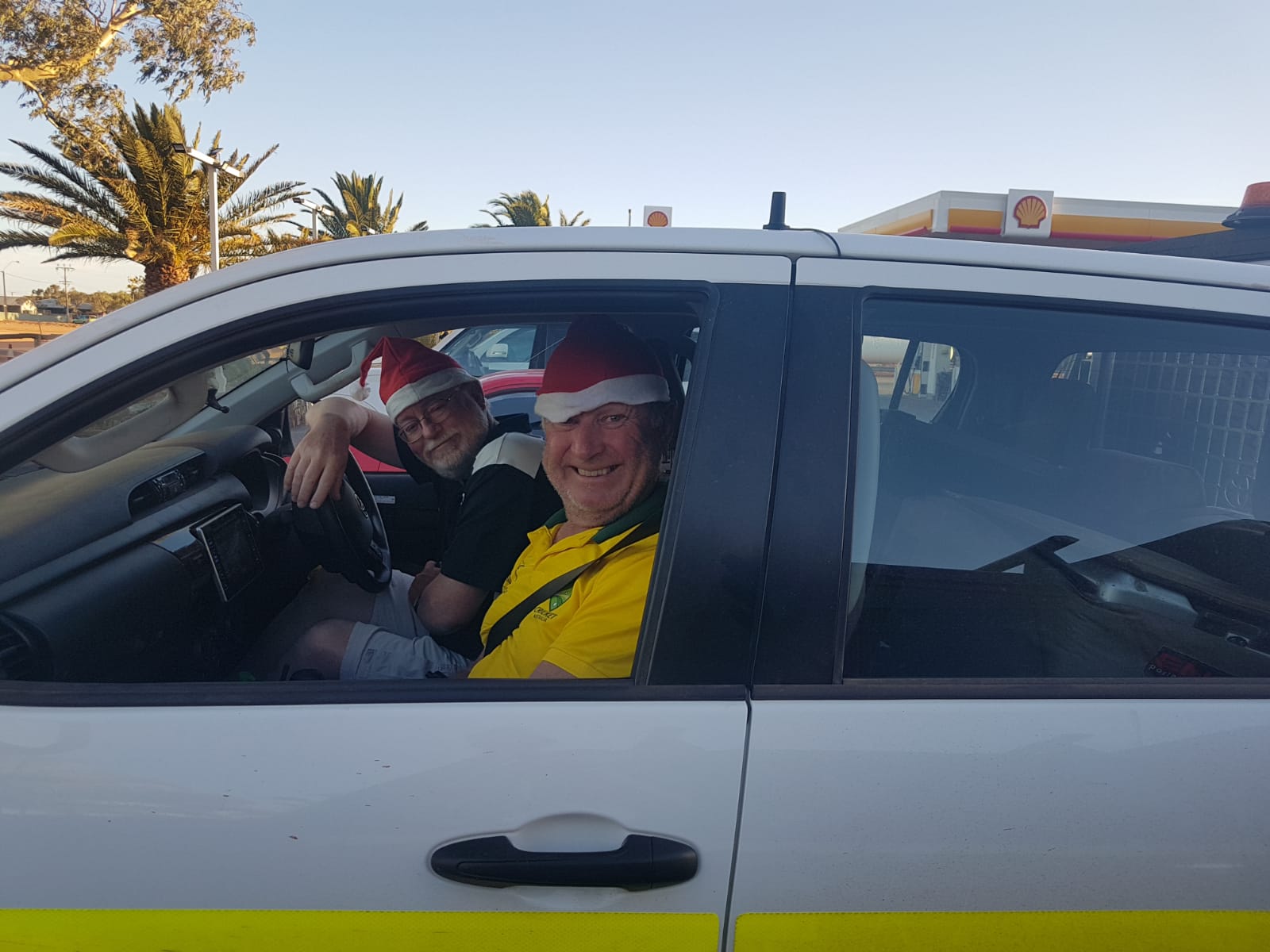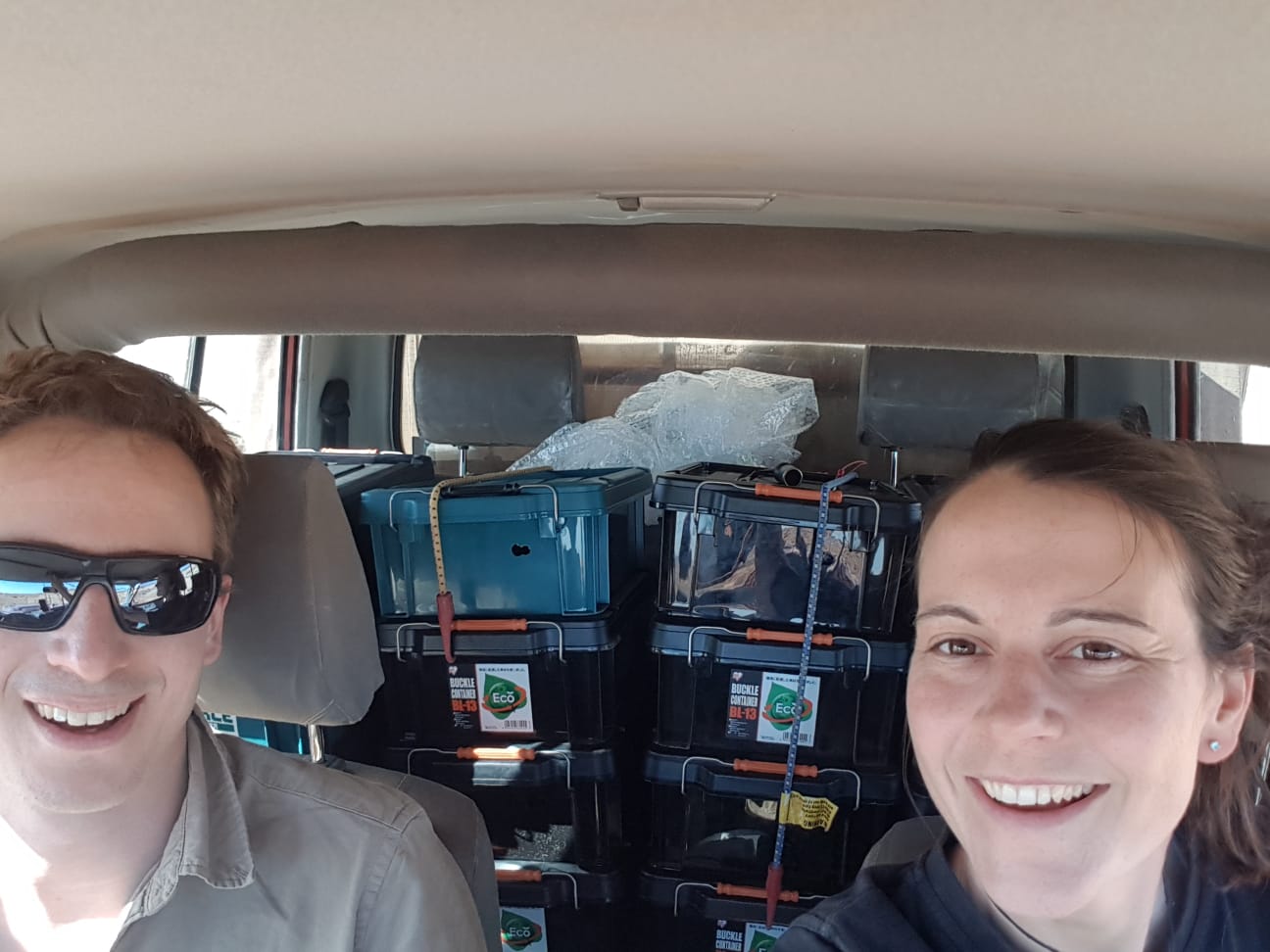 Dec 6, 2020: T+2.5 hours
JAXA
annouced
that they already found the capsule, congrats to the whole team!
Dec 6, 2020: T+1 hour
All teams collected equipment as the sun was starting to rise. We have a brief look at some of the images taken. Here are two amazing shots taken by our team while manning our observatory sites at Coober Pedy (top; Ellie Sansom) and near Prominent Hill (bottom; Andrew Cool). They even got a
JAXA tweet
!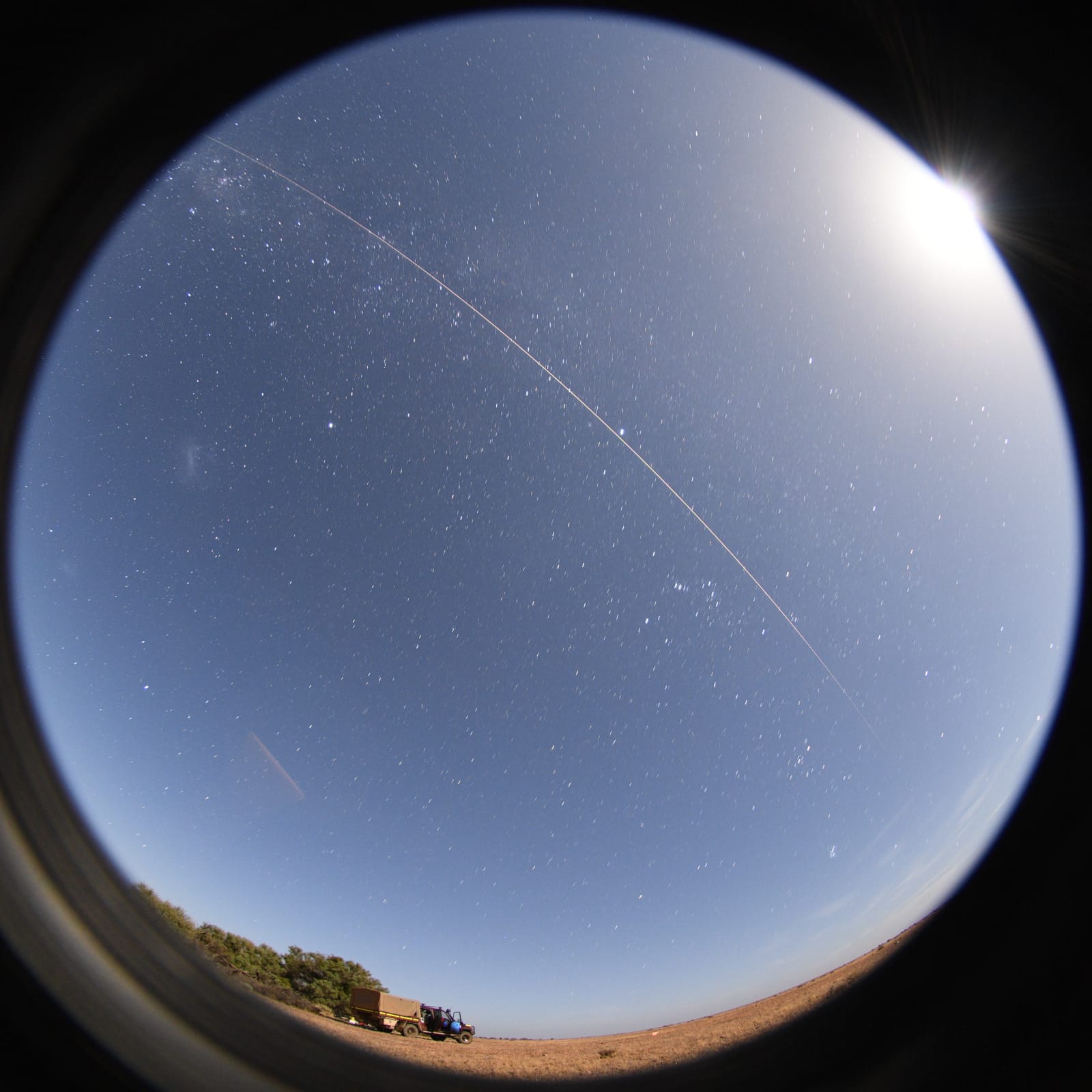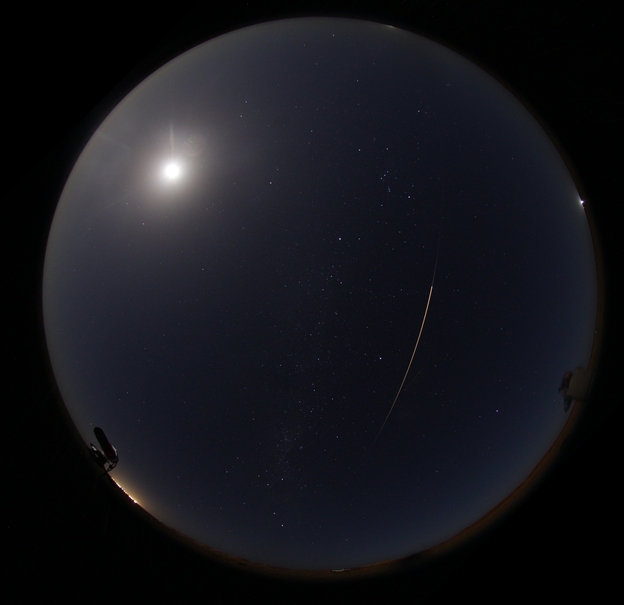 Dec 6, 2020: Fireball!
3 minutes to go, and we are in position. The wind has eased and the clouds stay away. The sample return casule comes in on time, as a dim moving star getting steadily brighter with a long tail. It is beautiful! It sparkles as it goes overhead in Coober Pedy and heads off toward the South East. We stay very still and quiet, hoping we might be lucky enough to hear a rumble from the sonic boom. After 5 minutes, not only are we rewarded, but the boom was unmistakable! It sounded very much like a mine blast. Congratulations JAXA on the spectacular show. Now we must start collecting all the instruments, and more imporantly the huge amount of data!
Dec 6, 2020: T-1 hour!
All instruments are set up and ready! The clouds are staying at bay but the moon is determined to get in on the action as well. At least the wind is easing for the infrasound!
It has been a huge responsibility putting out equipment on behalf of the Japanese teams. We are deeply honoured to have been given this responsibility, and hope we have represented them well and do their science proud. Their remote support has been incredible, as was Martin Towner and Martin Cupak's remote DFN support. Every one of the remote team members are online and making calls to report equipment status. No sleep for anyone tonight!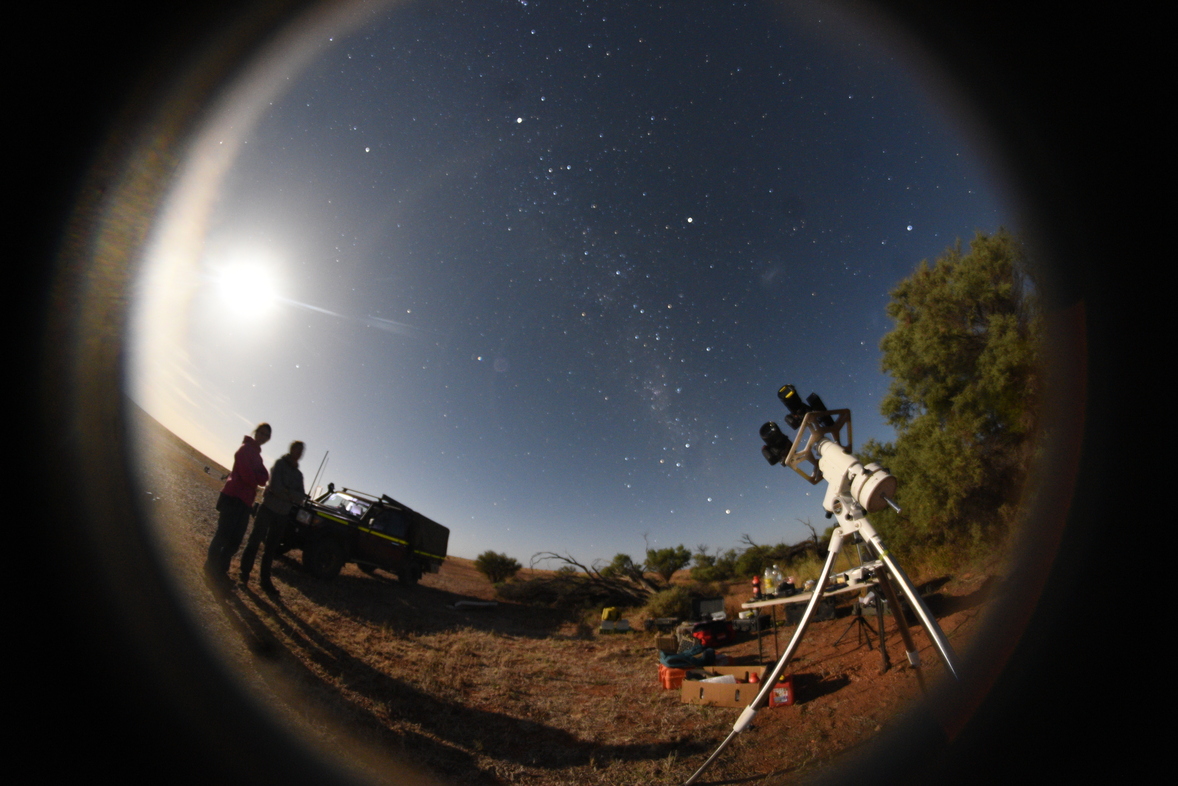 Dec 5, 2020: T-10 hours
What a day, Mick and Andrew have installed the last infrasound array at 14 mile waterhole and have set up their DFN camera near Prominent Hill mine. It takes some persuading to work, but is now happily clicking away. Terry and Geoff have installed the second passive UHF receiver, and the last DFN camera. Glyn and Karen survive a whole day of 25 knot winds, and have given up waiting for it to cool below 40 and turn on all their sensors too. Ellie and Hadrien put out the last seismometer and return to their Coober Pedy site where the antenna has also survived todays winds.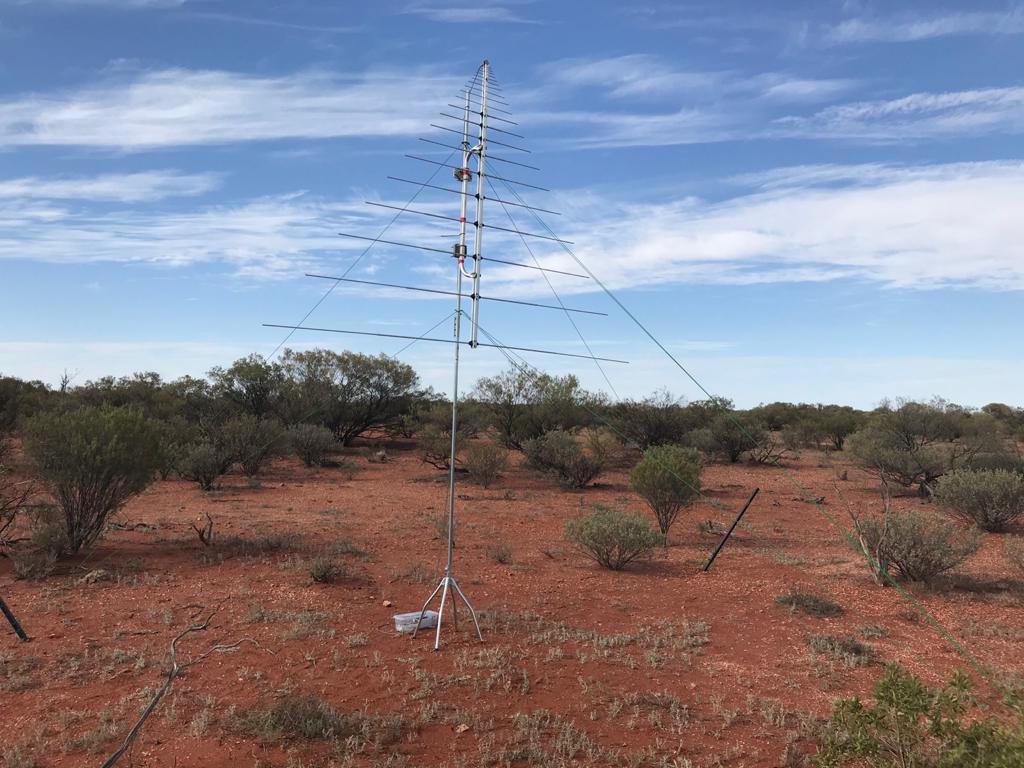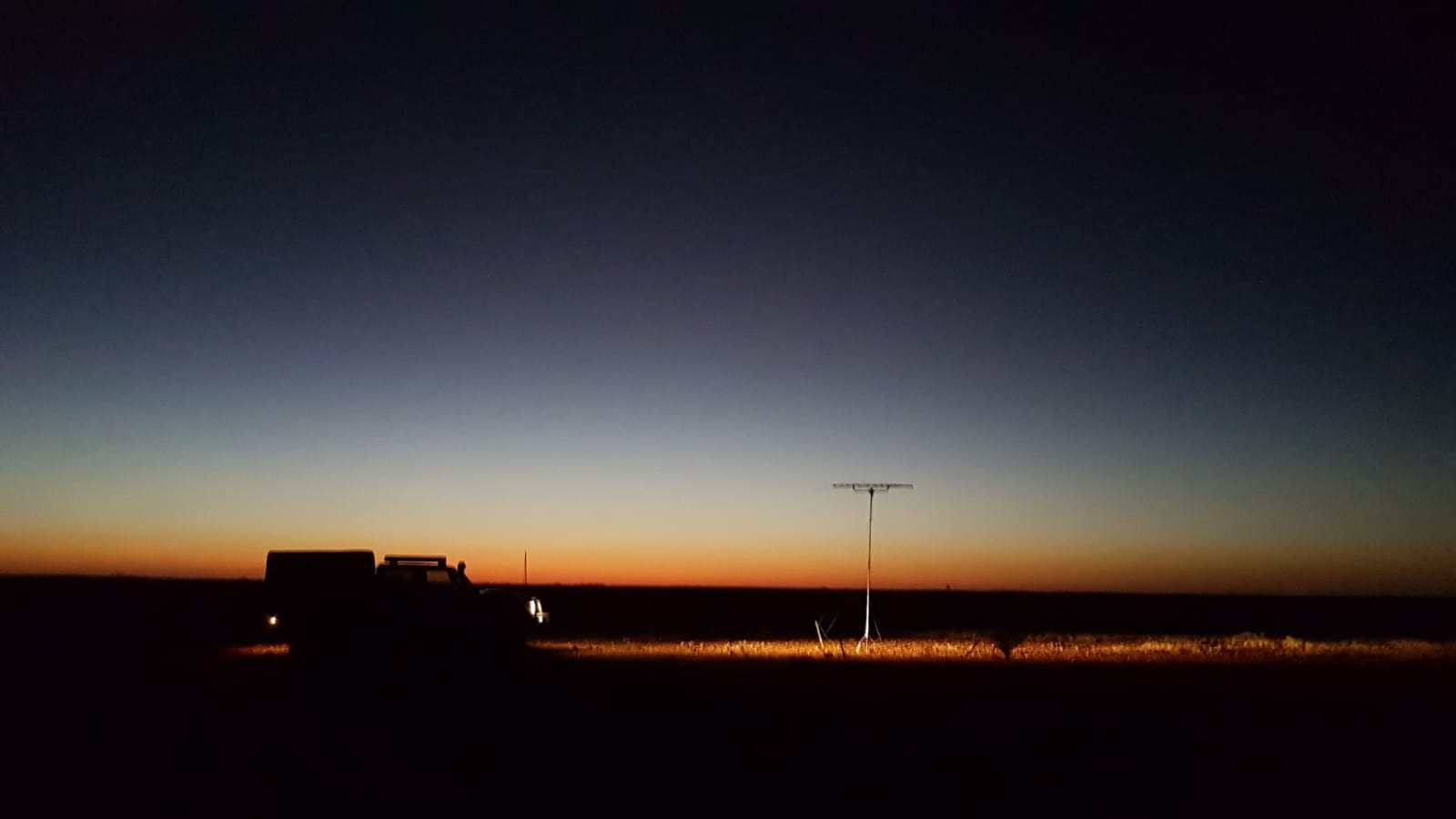 Dec 5, 2020: T-18 hours
All teams are off! All the check lists are ticked, let's hope we haven't left anything behind!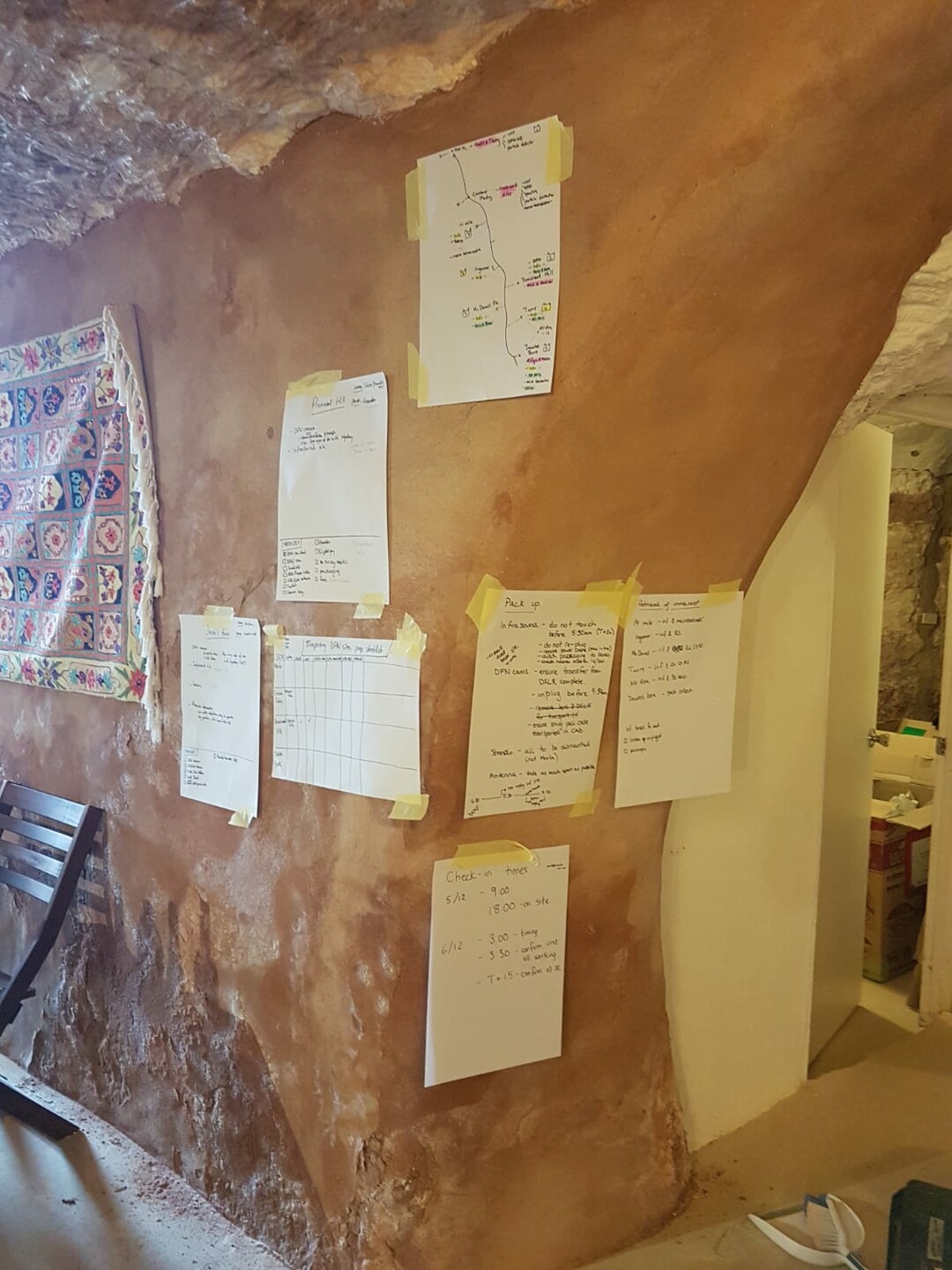 Dec 5, 2020: T-21 hours
7 am local time. We wake to worst case weather scenario - overcast and strong winds. Optical observations will not be able to see through the clouds, and infrasound will be strongly affected by the wind (if it can even be heard above the noise)! There is hope in the forecast though, check
Andrew's website
, a trusted source among Aussie astronomers. Poor Karen and Glyn had a windy night down at Jacob's Bore!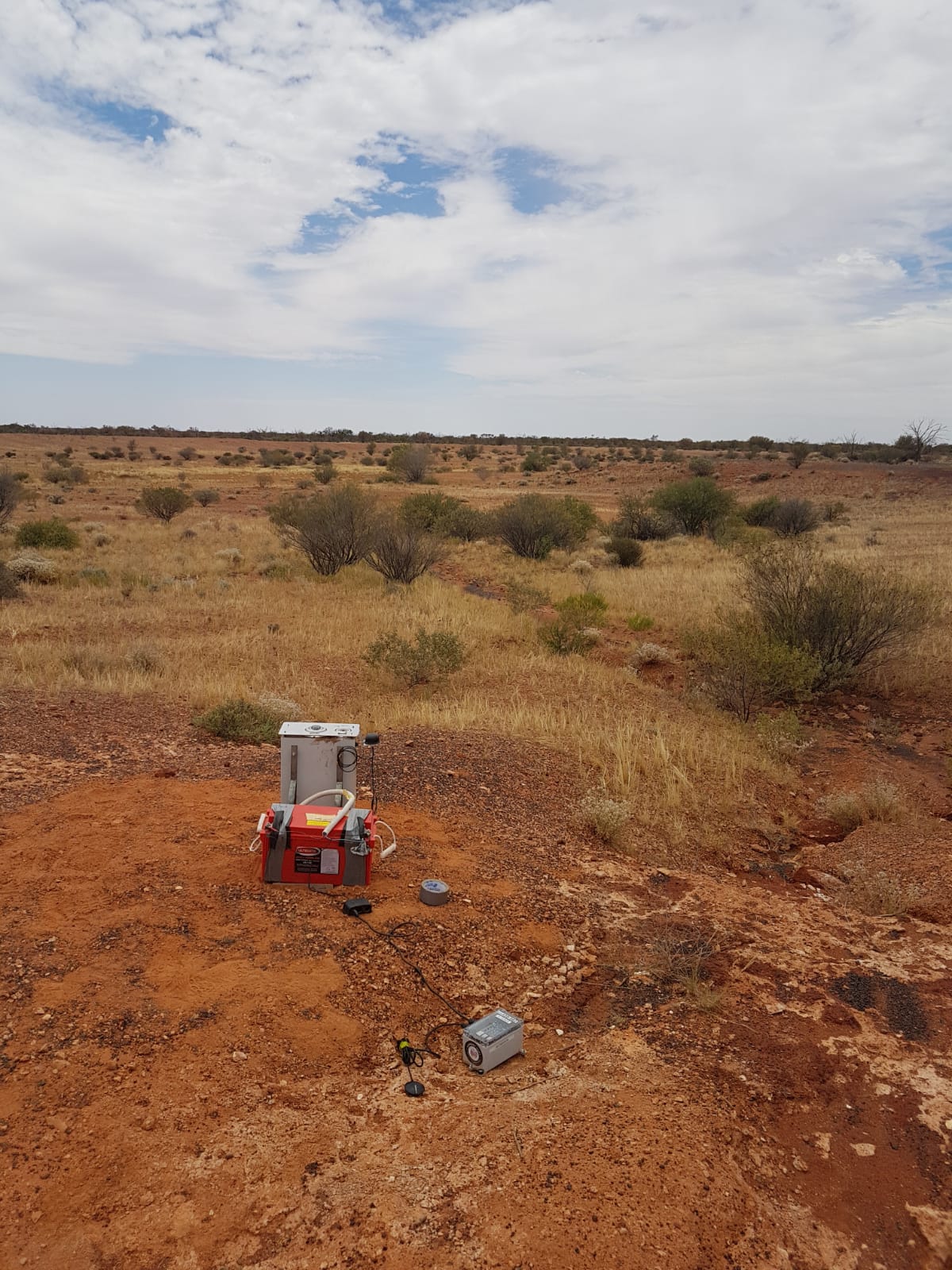 Dec 4, 2020
T-1 day. A hot 40C day before it cools down again. Karen and Glyn take up their position at the South end of the instrument corridor near Mount Eba, where they will operate a DFN camera, a micro-barometer, as well as keeping an eye on the infrasound and seismic sensors in the area. Ellie and Geoff drive infrasound and seismic sites finishing the deployment and checking operation of the sites. Mick and Andrew set up the Northern most infrasound site, and then do a check of the site they will be manning near Prominent Hill. After a final remote catchup with the Japanese science team, Hadrien and Terry get started on the log-periodic UHF antenna setups, whilst diagnosing faulty equipment at the base in Coober Pedy. Some bad news from our friends at the BOM. The reliable wheather balloon that gets flown to measure the atmospheric winds has stopped working and can't be fixed before the event. This means predictions on infrasound winds and capsule fall will be difficult to quantify.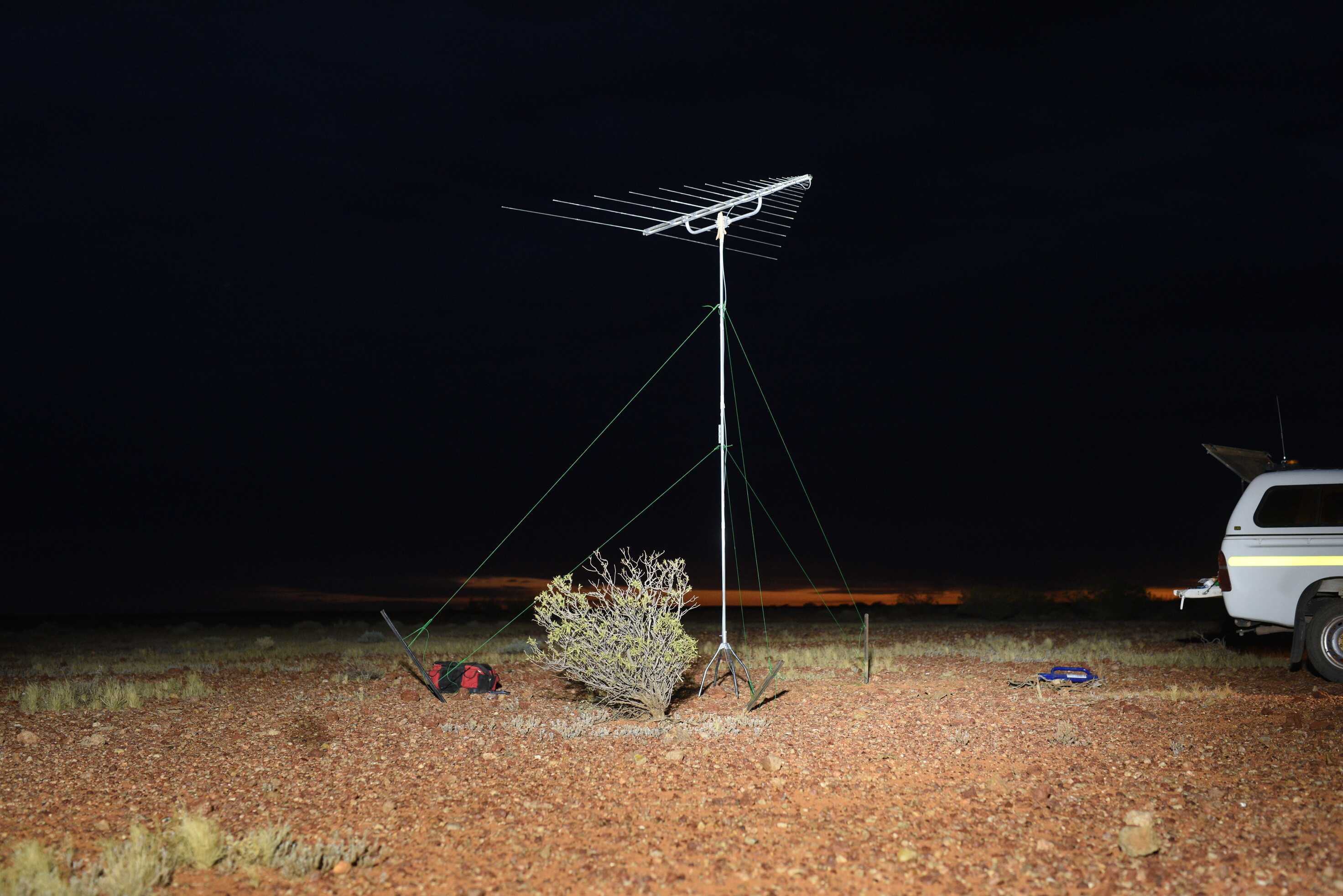 Dec 3, 2020
Hadrien and Geoff head off to Glendambo to borrow yet more batteries from old DFN sites. The rest of the teams assemble at Ingomar to set out the second infrasound site, learning from the mistakes of yesterday. It's a lot hotter today though and walking the 100m tape measurers out is tiring! Assembling the battery and infrasound setups in the heat is a lot slower than yesterday as water breaks are constant. Teams split, and by the end of the day, we also have sites set up near Prominent Hill, McDouall Peak and Mt. Eba. Pete and Maggie from Mt. Eba do a flyby of our setup in their gyrocopter. Back to Coober Pedy for a well earned rest. We went through about 5L of water per person today!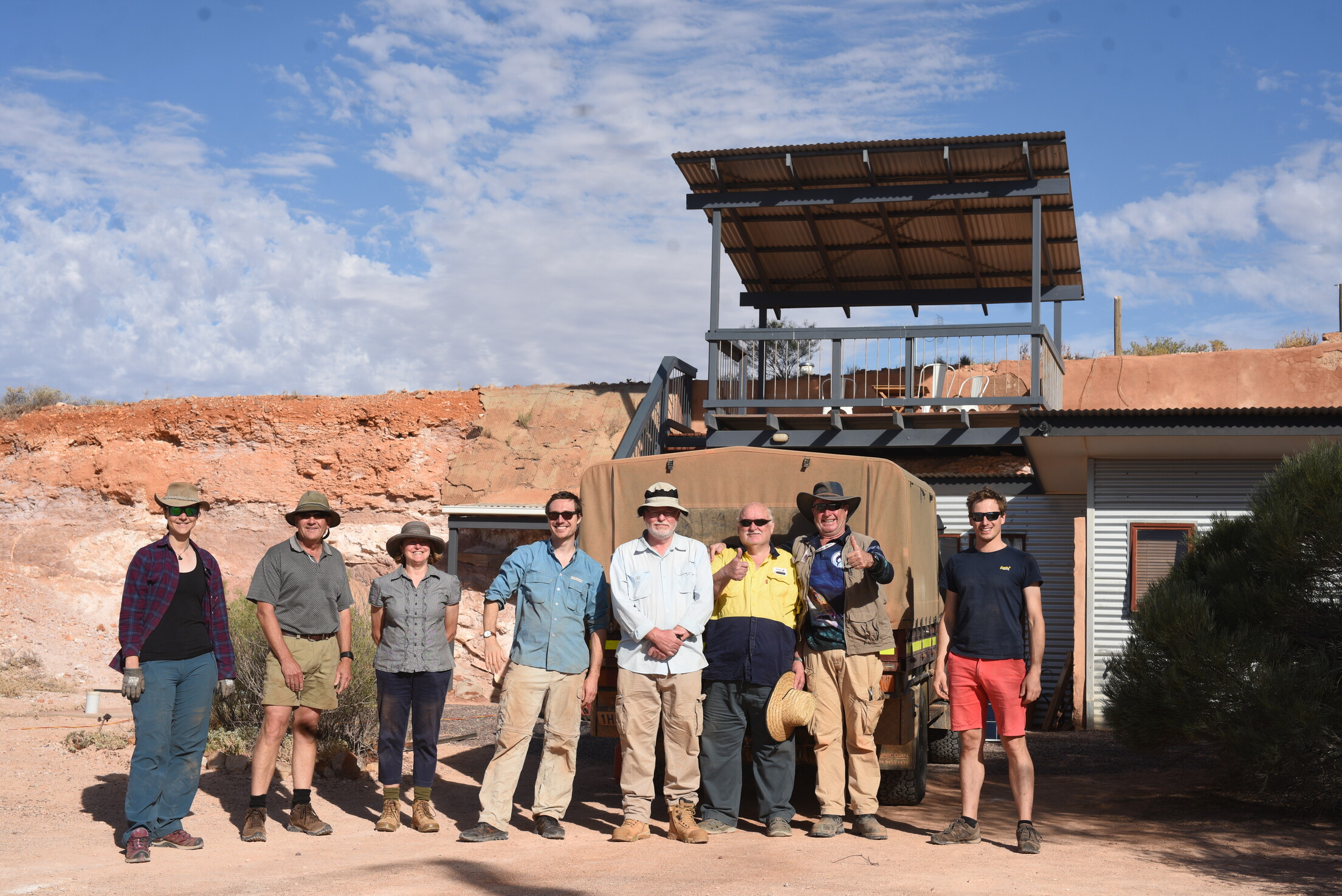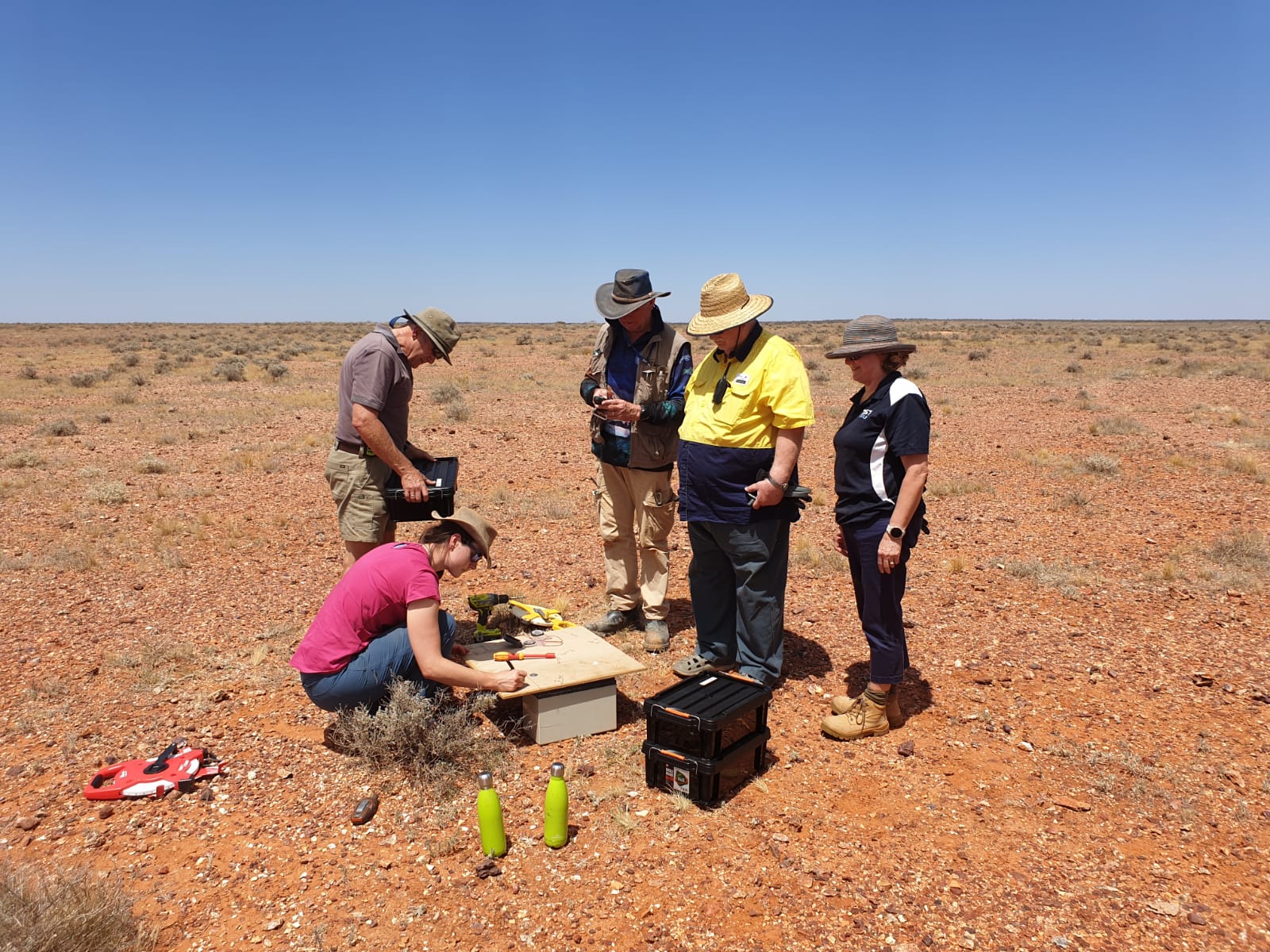 Dec 2, 2020
Hadrien and team 2 head up to Mt Barry to collect more batteries, and re-install our permanent DFN site at this station. Ellie tries to bully the seismometers into reading the GPS units, and takes some fun media calls. Check out the great article on
Cosmos by Lauren Fuge
. Ellie then accompanies Mick and Andrew to Twin Peaks station where they lay out the first infrasound array! Let's hope the cows in the area don't get too inquisative this weekend! Teams 3 and 4 arrive at Coober Pedy and we have a fantastic double rainbow to accompany the sunset.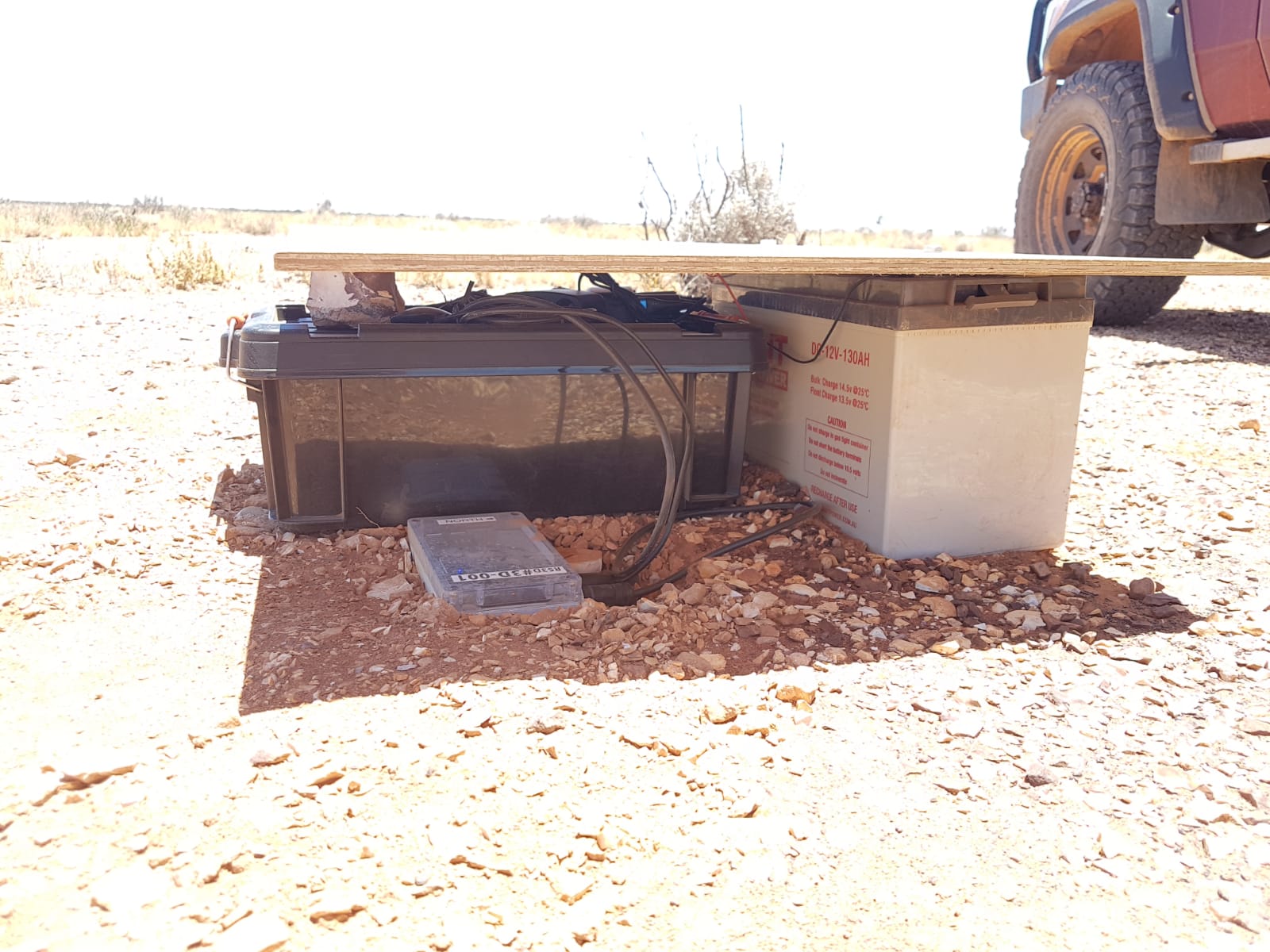 Dec 1, 2020
December is finally here! Teams 1 and 2 head to Ingomar to set out a line of seismometers to test the ground response in the area. It's cloudy and very windy! Hats are blowing all over the place and we can't hear each other between the 5 m separating seismometers! As really to be expected, the noise levels are so high in the data that it undid all the efforts of the morning. Rhonda (our LandCruiser) showed a fuel filter warning light, will need to get that fixed ASAP. While team 1 scout the McDouall Peak site, team 2 head to Prominent Hill access road to set up the camera stand for their manned site. The Raspberry Shakes still have timing issues and refuse to use the USB GPS units... back to the software hacking. Hadrien has Rhonda fixed; she wasn't complaining for nothing, check out the state of the fuel filter compartment!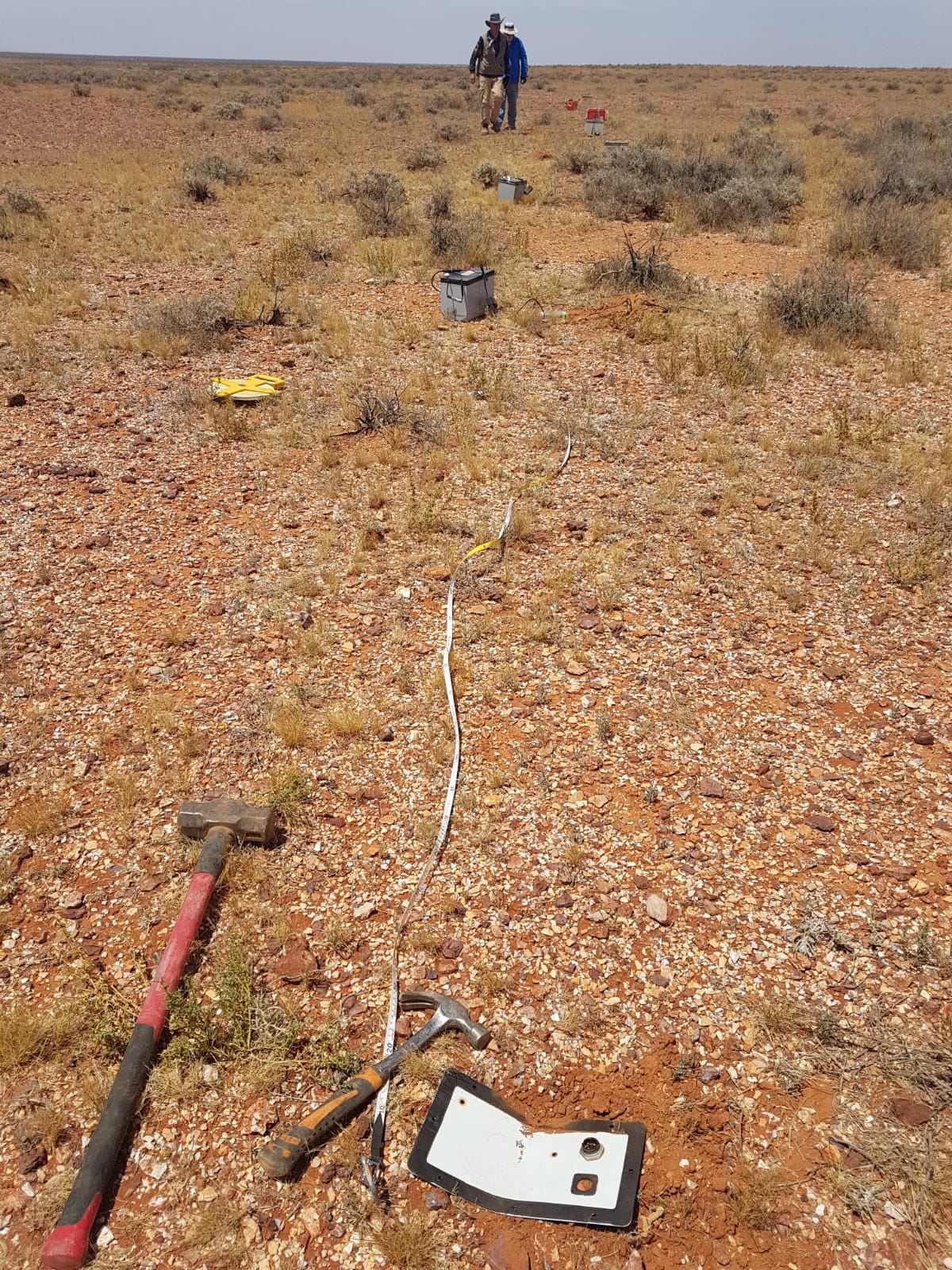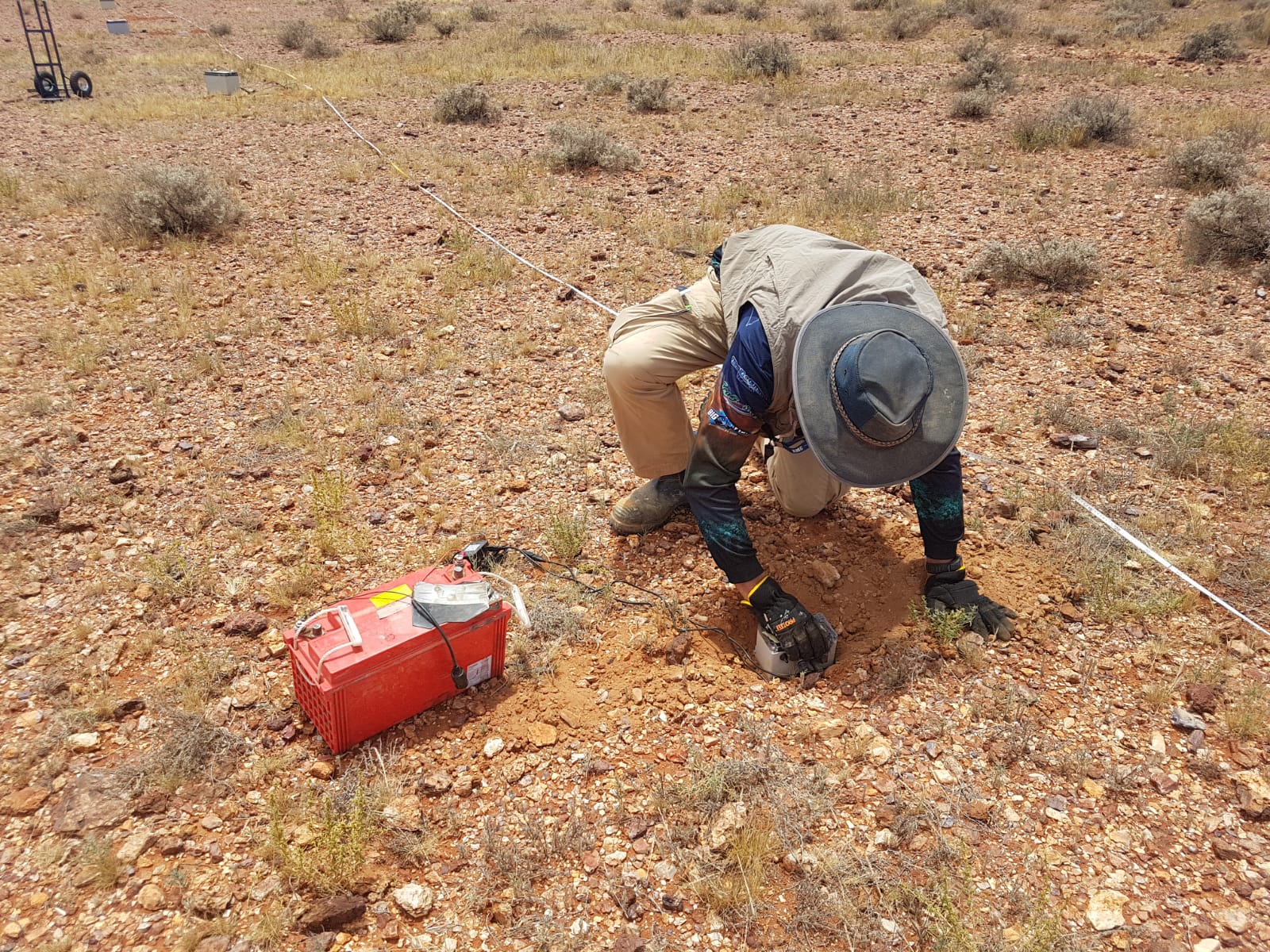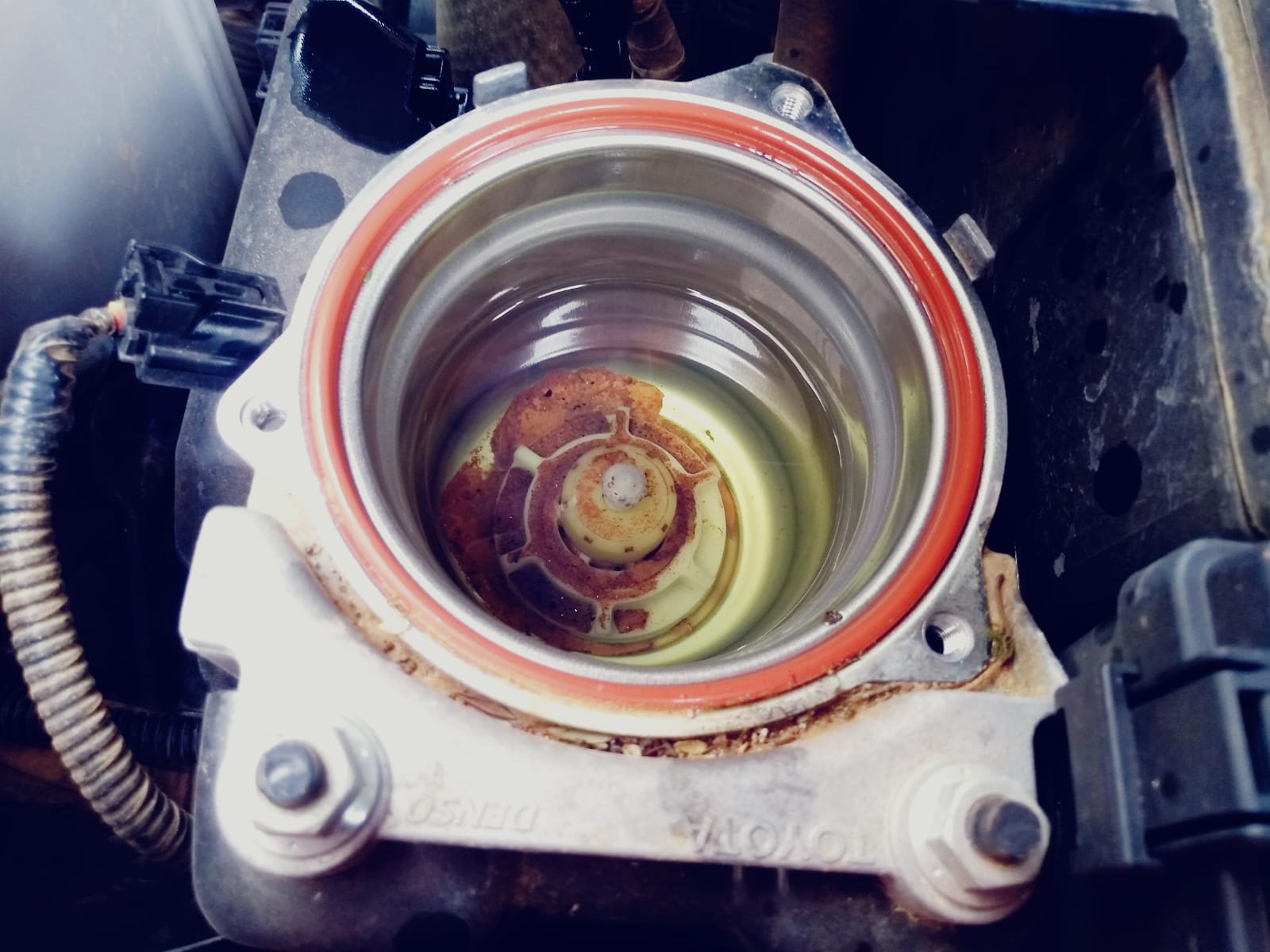 Nov 30, 2020
Team 1 and 2 headed out early from Woomera, but in different directions. Hadrien, Ellie, and Rhonda (their trusty Land Cruiser)headed up to service the fireball camera in Billa Kalina, West of Roxby Downs. Meanwhile Andrew and Mick swapped the hard drives of the North Well camera to the West, and then headed North to service the Ingomar station. Ellie and Hadrien also drive via Ingomar on their way back to Coober Pedy, restoring the network connectivity at an extreme distance of 70 km from the mast! Upon return to their beloved cave, they had a final telecon with the science team still in Japan, finalising details. Let's hope these clouds disappear by the weekend!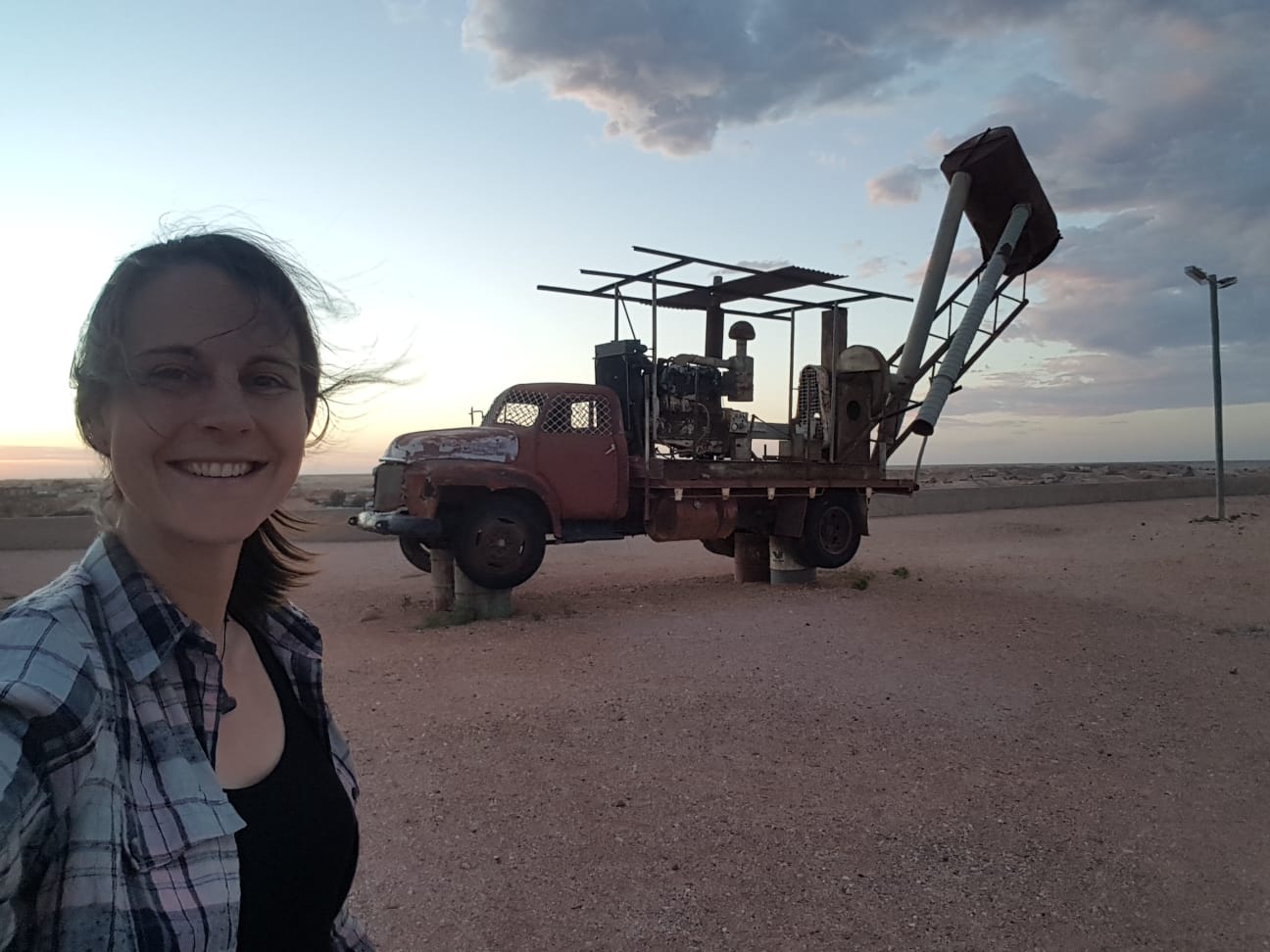 Nov 29, 2020
Hadrien and Ellie drove down to Woomera, picking up some batteries and solar pannels on the way, and also did some ground scouting to find appropriate sites for infrasound and seismic instruments. The main goal of the drive down was to meet with Yoshiaki Ishihara (JAXA) for lunch. He gave them good advice on setting up their Japanese infrasound and seismic sensors. It looks like some may need to be partly buried if the ground is too soft! In the arfternoon they fixed the fireball camera in Woomera, and met with team 2 for dinner. Mick and Andrew were driving up from Adelaide, servicing the GumGlen camera on their way up.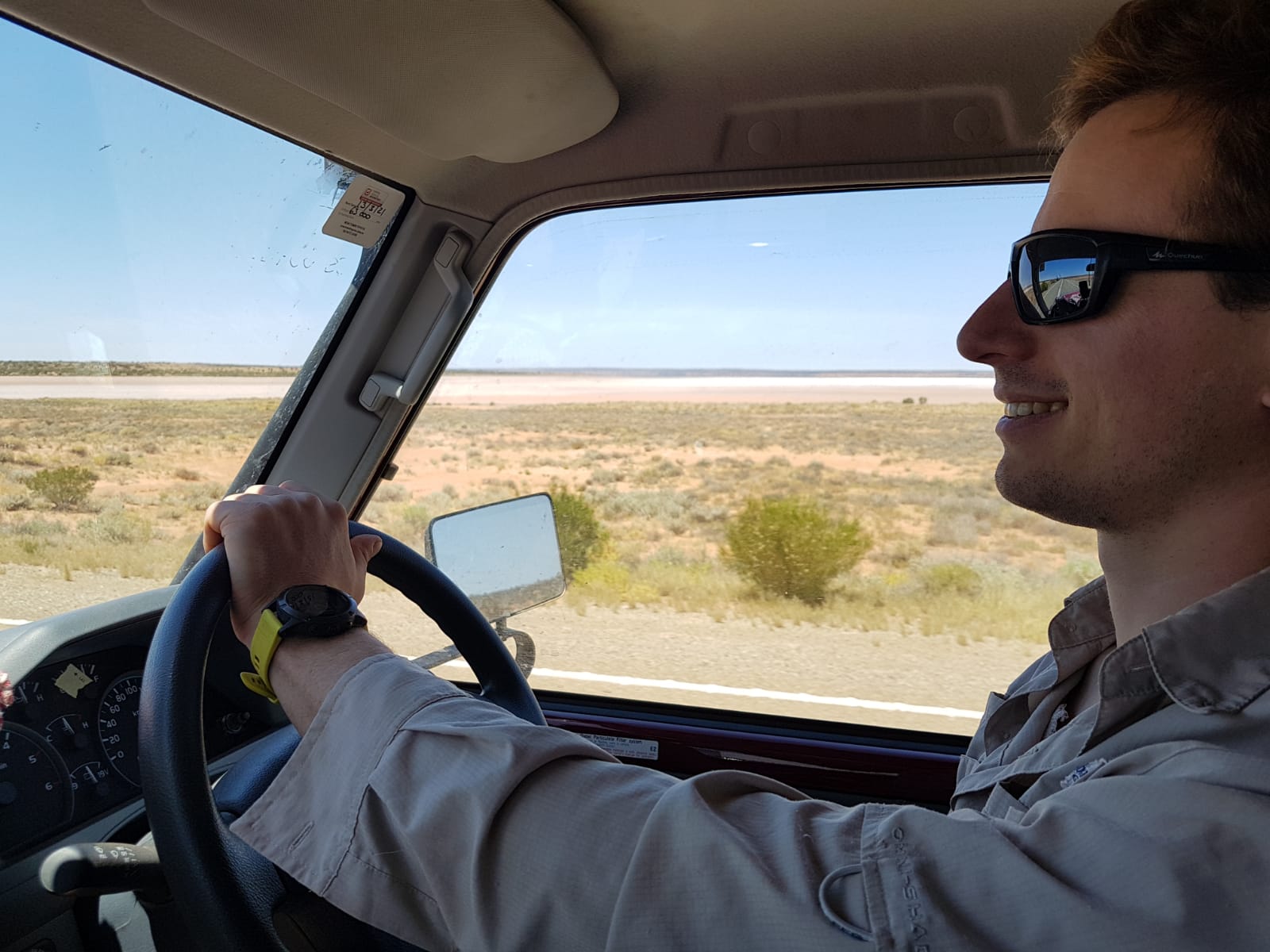 Nov 28, 2020
Team 1 in Coober Pedy remains in hiding in their cave in Coober Pedy on this 46C day, making the most of the day at base repairing DFN cameras, as well as unpacking and testing infrasound/seismic sensors. Meanwhile team 2 in Adelaide consisting of Andrew and Mick, helped by Terry, are packing up their car as they are leaving tomorrow morning.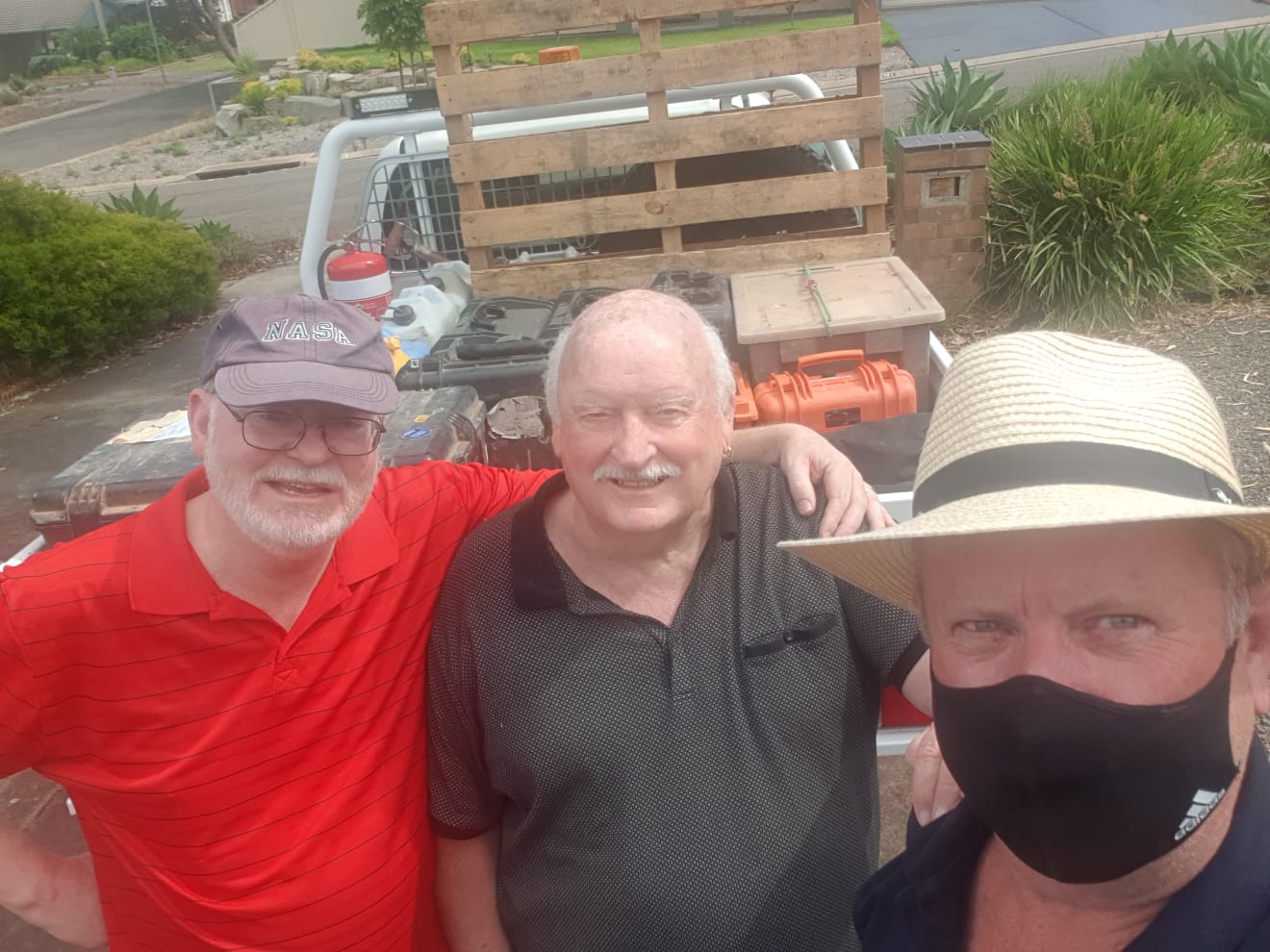 Nov 27, 2020
Today marks the 5 year anniversary of the Murrili meteorite, the first recovered fall of the digital age DFN. The team visits William Creek, Trevor Wright's air support base, who helped with the
recovery
. Hadrien and Ellie then head up to Oodnadatta to service the DFN camera there, and finally come back down to base via Mount Barry, also host to a fireball camera in need of servicing. These gravel roads across Ngurabanna country are usually popular in the cool season with tourists; but this time passing cars over the 600 km journey could be counted on a single hand!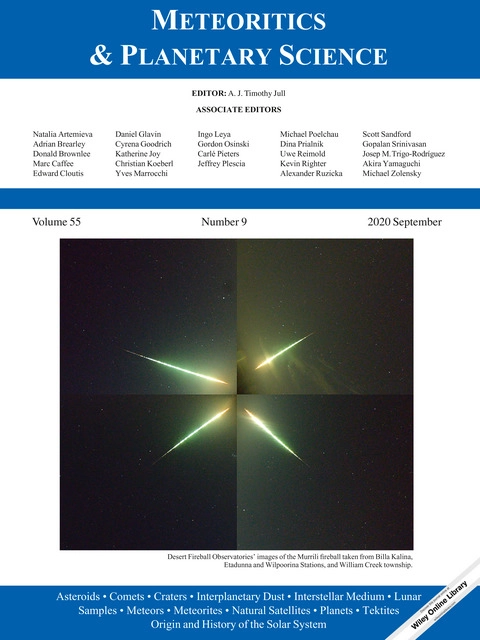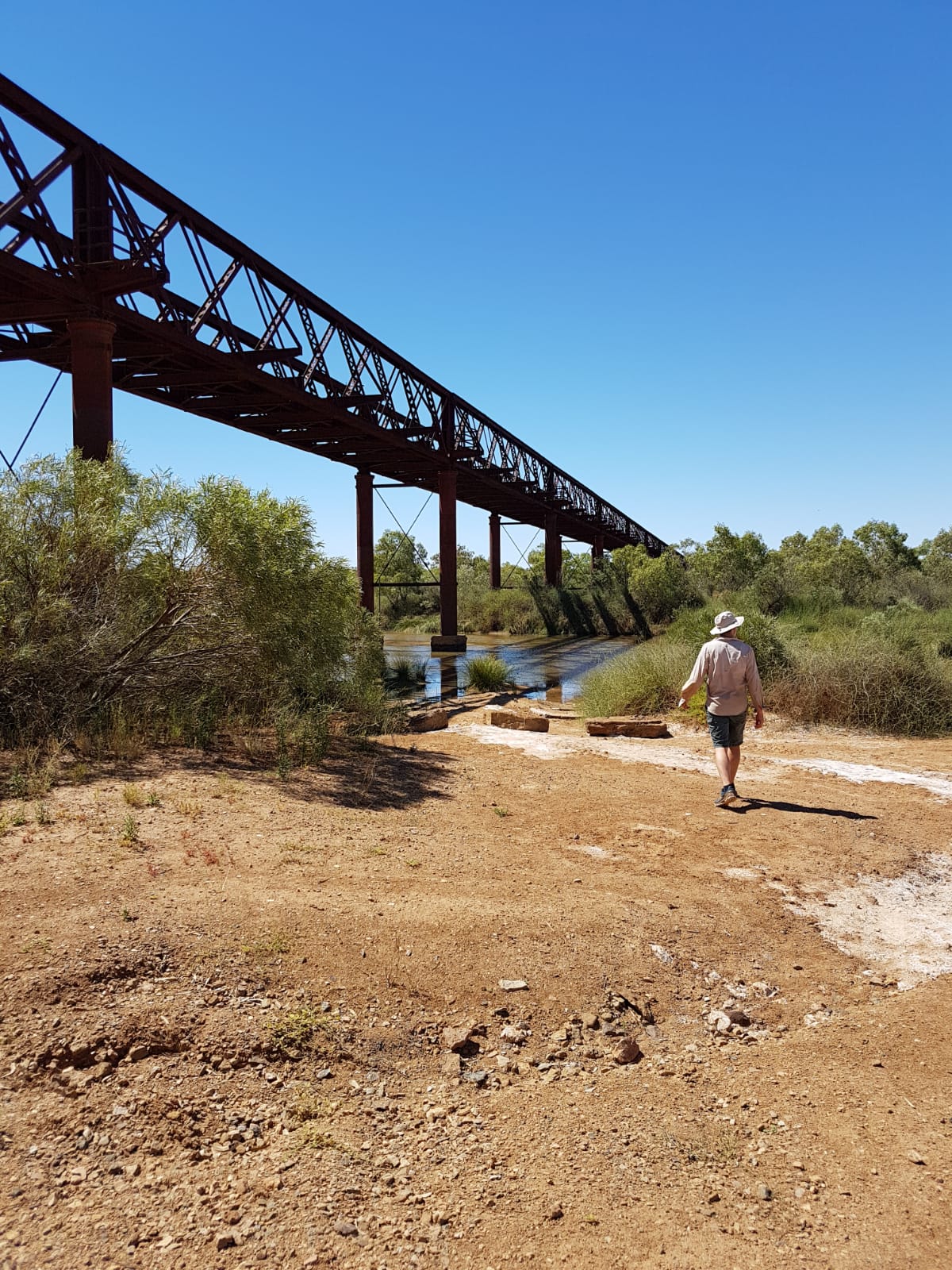 Nov 26, 2020
The main gear shipment has arrived, delivered by McArdle freight. It's getting hot!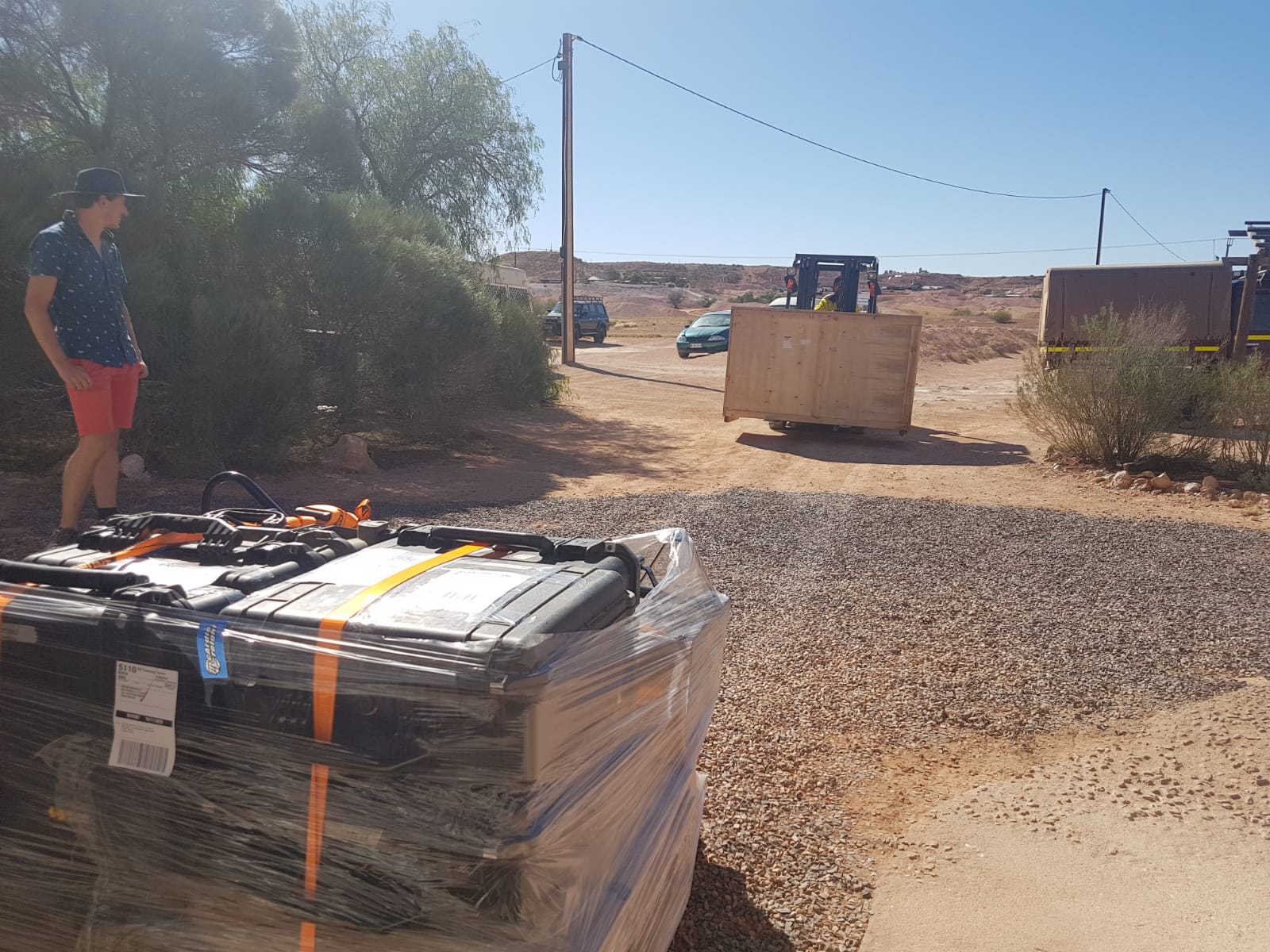 Nov 25, 2020
Hadrien and Ellie are doing some DFN camera servicing North of Coober Pedy, also selecting the Northermost site for the campaign. Mustering has started in the surrounding cattle stations and must watch out for cattle crossing the highway!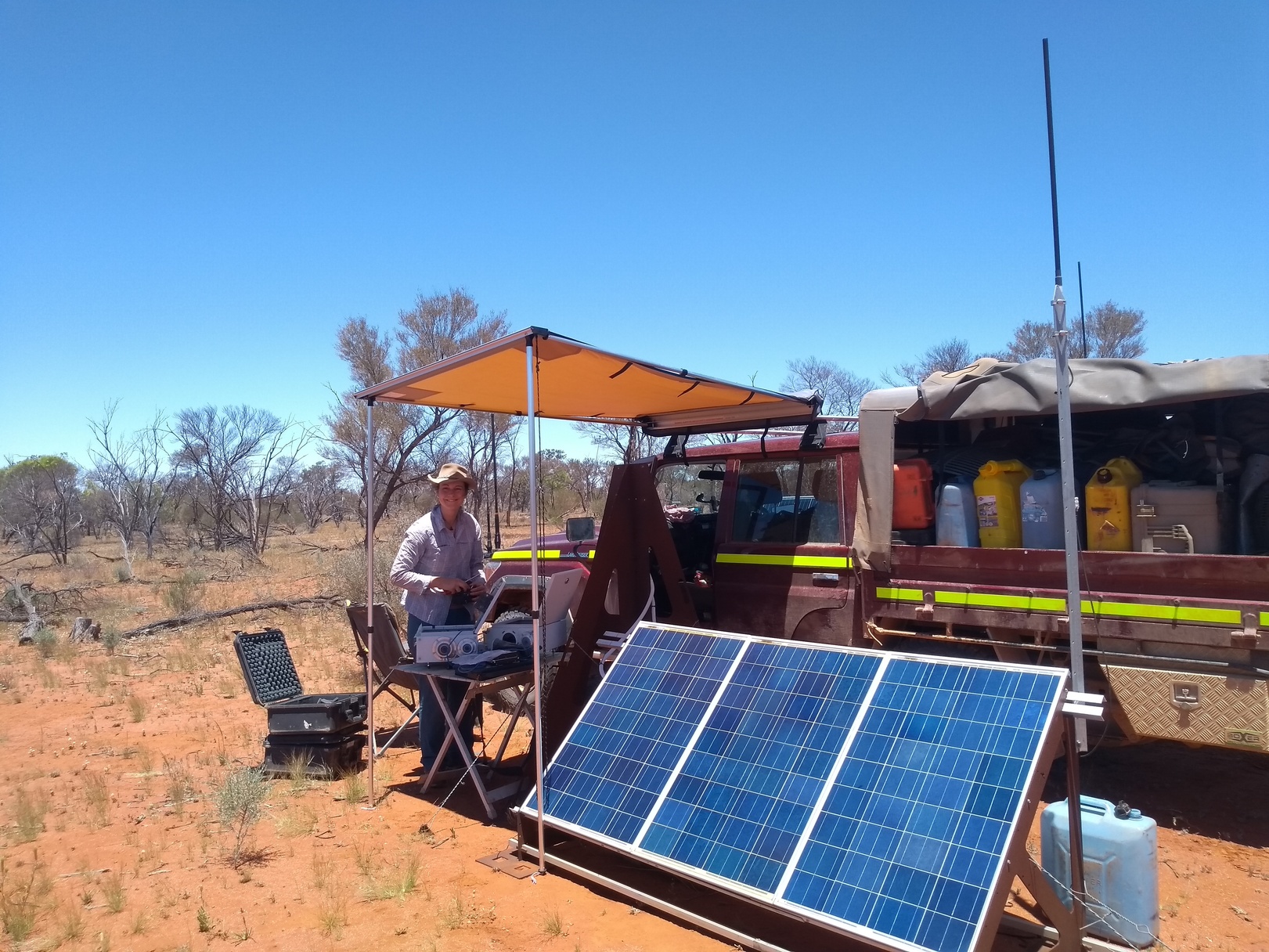 Nov 24, 2020
Ellie and Hadrien have arrived in Coober Pedy. The dugout accomodation (a typical Coober Pedy construction) will keep them cool for the duration of the campaign.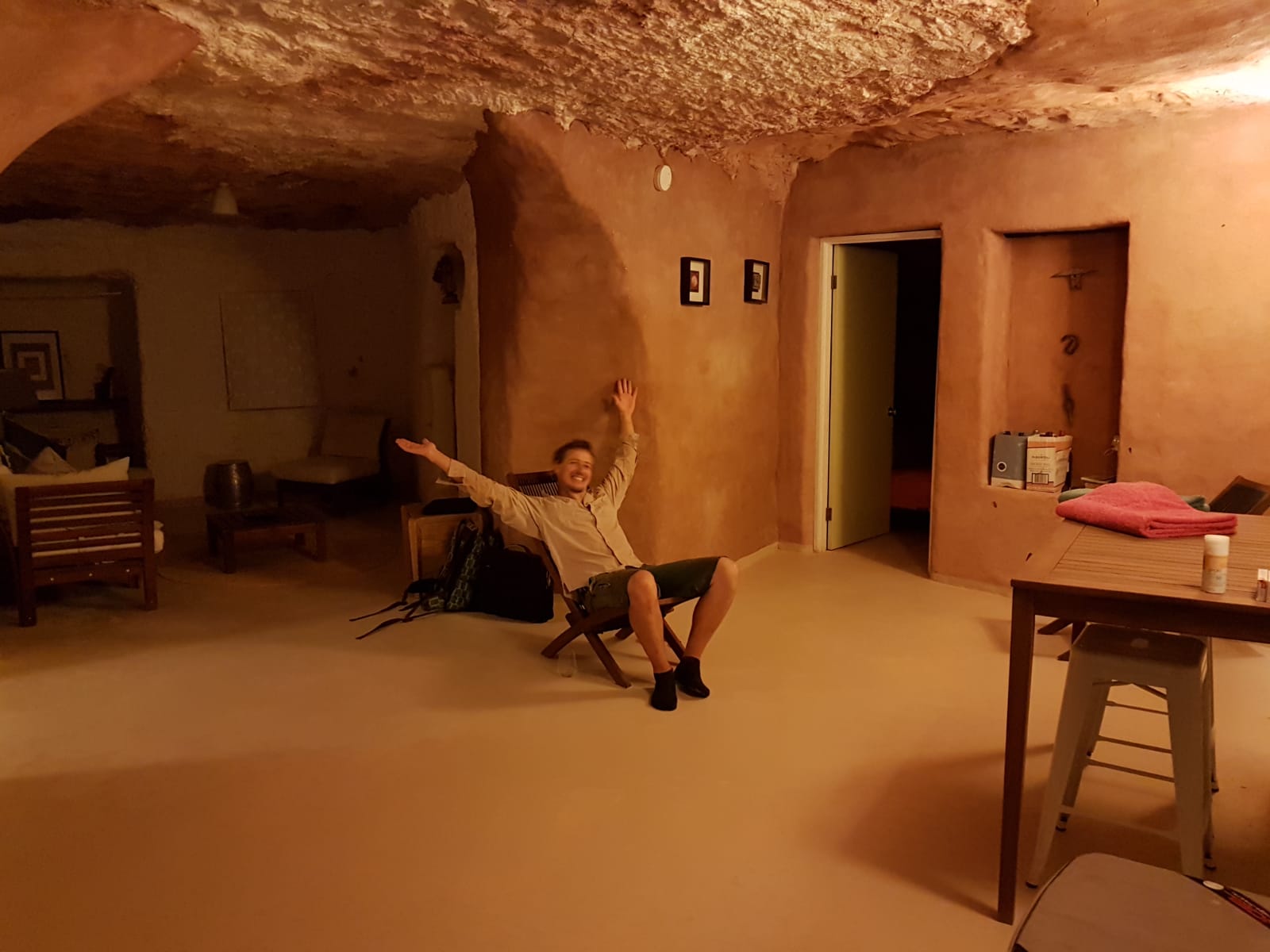 Nov 21, 2020
The team visits one of the historical camera sites of the DFN, at
Forrest Airport
, managed by Karen and Steve. Although in the middle of nowhere, the stop in Forrest is an opportunity to meet new people. Thanks Alan from
West Coast Aero
for giving us a tour from the air! We also had a good chat with Catherine from
Airborne Research Australia
about possible future collaboration.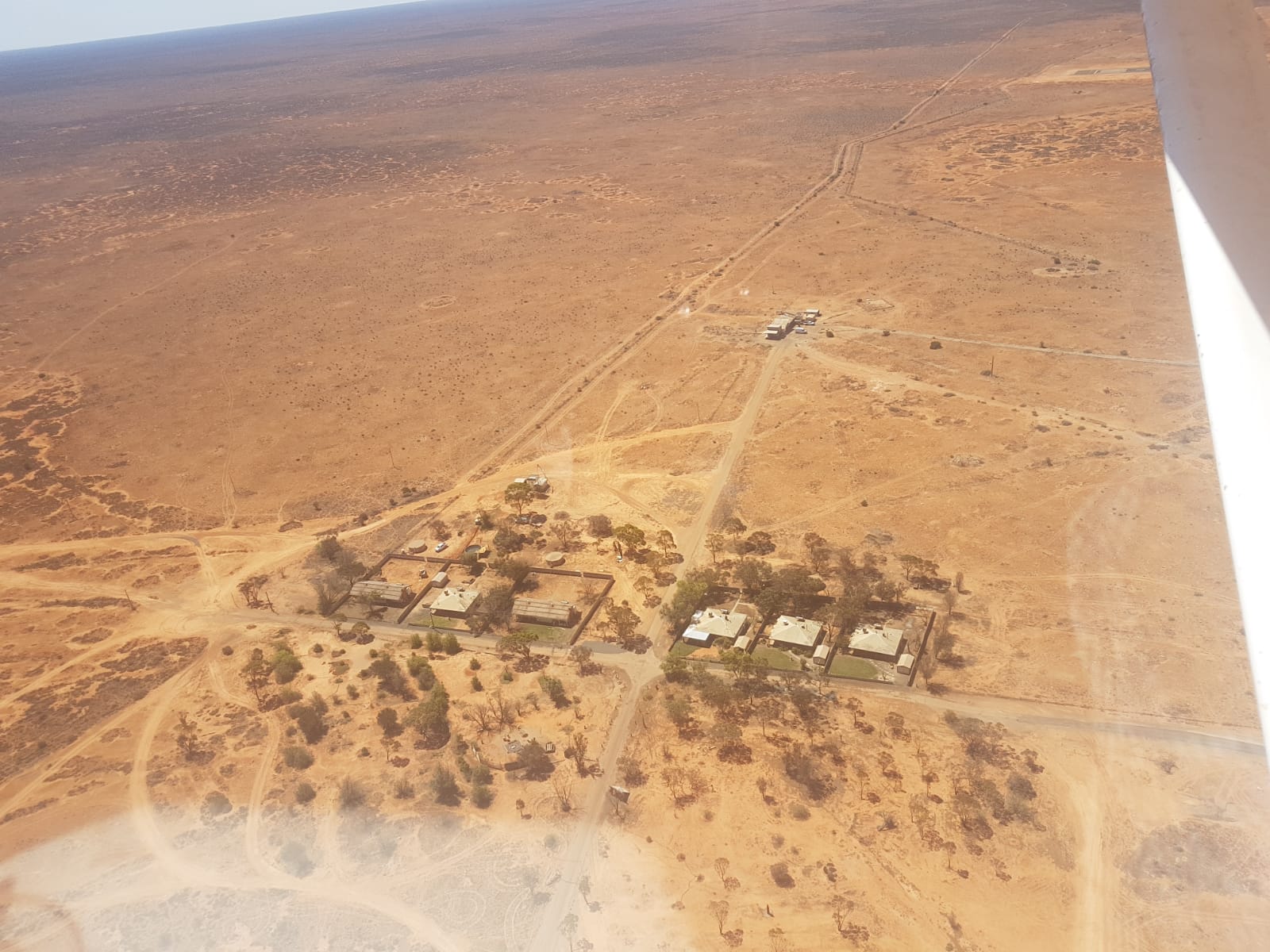 Nov 20, 2020
JAXA news update: Information on observing the re-entry capsule on the
Hayabusa-2 website
. They've also created a pretty
cool app
(for those with apple devices) that will show you what the fireball will look like!
Nov 19, 2020
While waiting for the SA lockdown to end, the team is servicing some DFN cameras in the Nullarbor, welcomed by a lightning storm!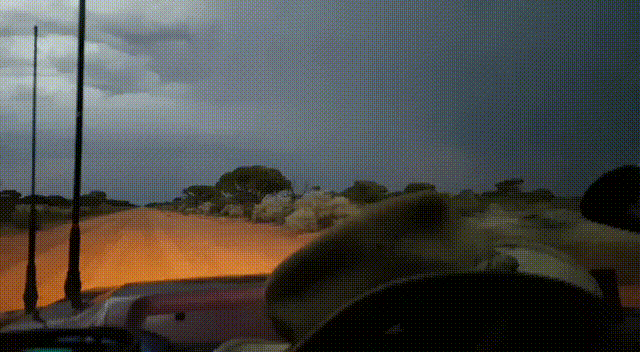 Nov 18, 2020
Ellie and Hadrien have left Perth, driving East. Despite having exemption border passes, it is unclear at the moment at what point they will be able to cross the border into South Autralia, as South Australia have started a 6-day complete lockdown of the state in order to contain the Covid cluster in Adelaide.
Nov 16, 2020
The joint research agreement has been signed by both Kochi University of Technology and Curtin University.
Nov 13, 2020
Testing the Raspberry Shake and Booms in the lab and in the field. We finally managed to get them working with GPS modules.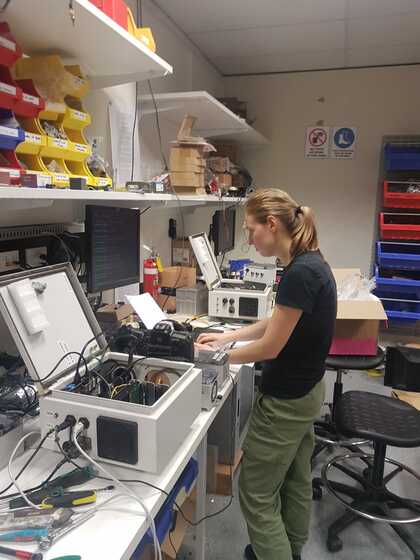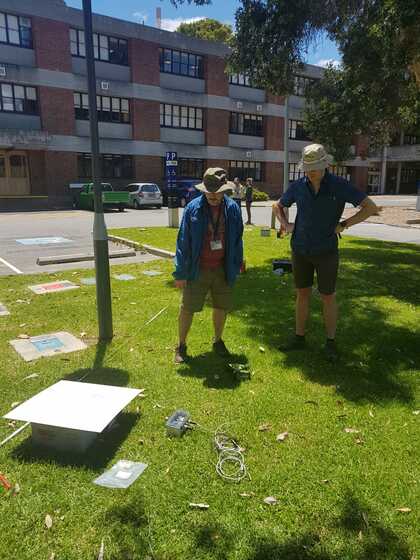 Nov 12, 2020
An online meeting was conducted between Australian partners to coordinate field operations in South Australia.
Oct 27, 2020
The massive box has arrived at Curtin. Martin Towner puts his forklift licence to practice!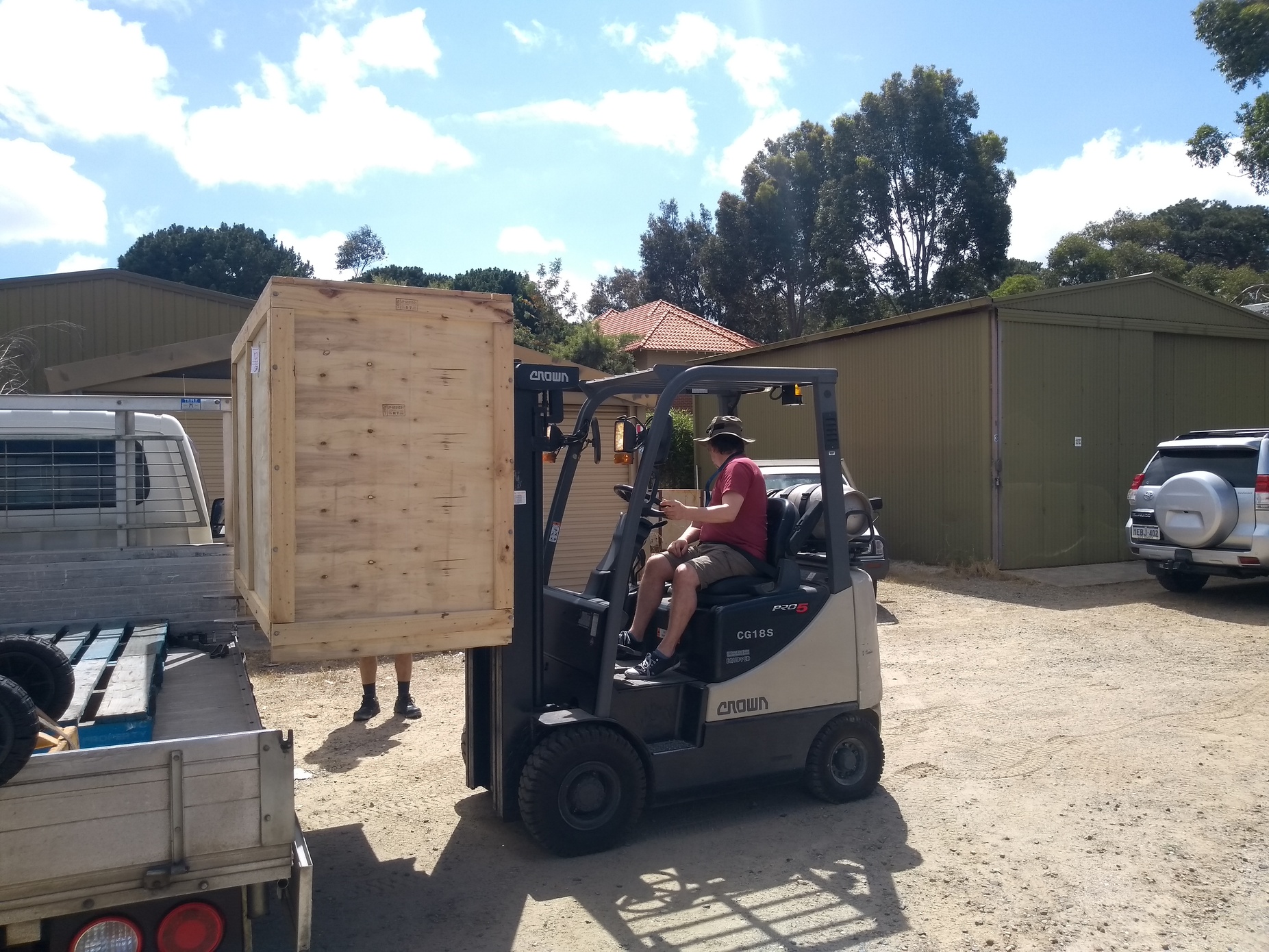 Oct 13, 2020
Masa-yuki Yamamoto has shipped the bulk of the infrasound instruments to be used during the campaign to Australia.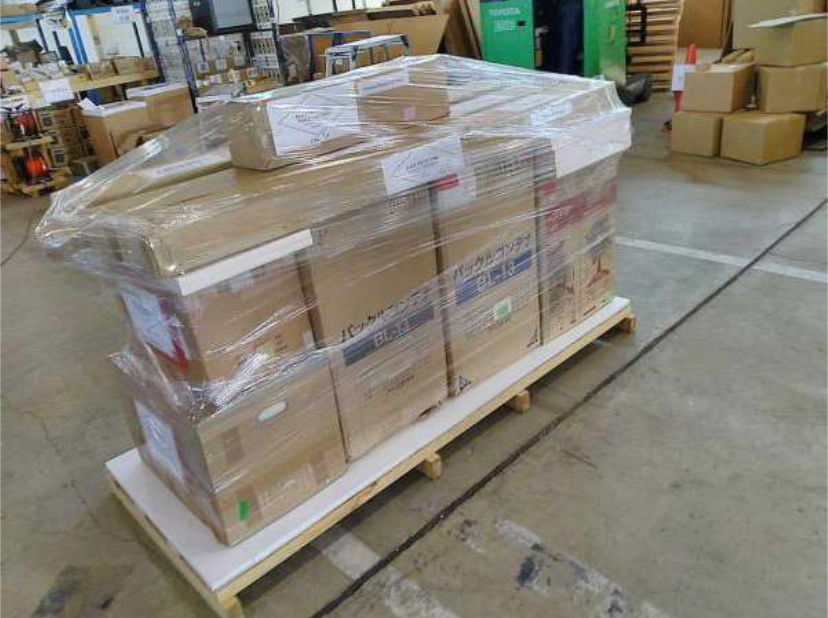 Sept 18, 2020
The first
Raspberry Shake & Boom
unit has arrived to Curtin.
Sept 14, 2020
Masa-yuki confirms that travel from Japan by science teams will likely not be possible due to Covid restrictions. Plan B is activated, Curtin and partners from Australia will do most of the instrument deployment.
Aug 19, 2020
The first INF04 infrasound sensors have arrived to Curtin for testing, shipped by Masa-yuki Yamamoto.
Aug 19, 2020
JAXA news update: The Hayabusa2 Re-entry capsule is approved to land in Australia in the Woomera Test Range. Check it out on the
Hayabusa-2 website
. Hayabusa-2 will soon enter its final guidance phase to intercept the Earth (picture credit:
JAXA
).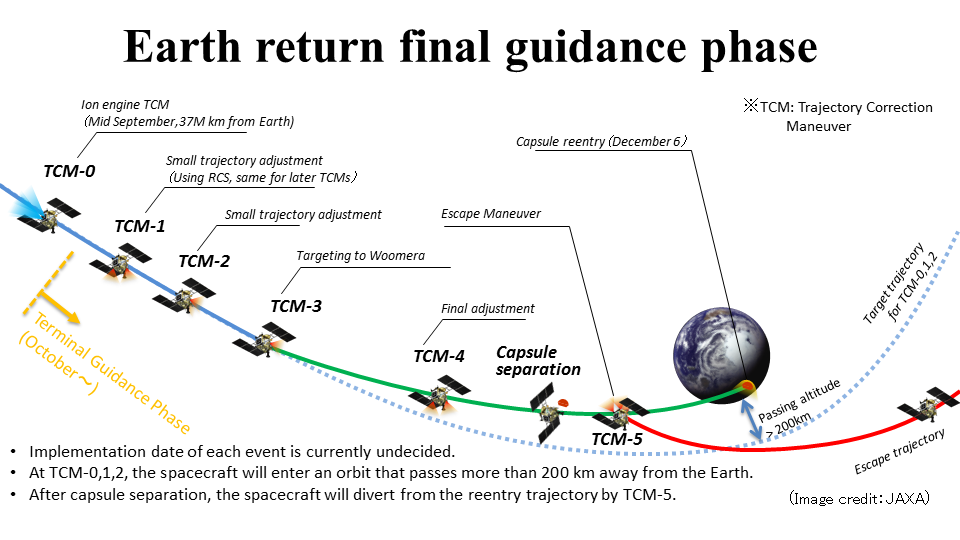 Nov 13, 2019
Hayabusa-2 departs from Ryugu, the next phase of the mission as it is coming home!
June 2019
While attending the
Meteoroids conference
in Bratislava (Slovakia), Masa-yuki Yamamoto (Kochi U.T.), Shinsuke Abe (Nihon U.), and Hadrien Devillepoix (Curtin U.) start talking at about a possible collaboration to observe the re-entry of the HAYABUSA-2 capsule in December 2020.